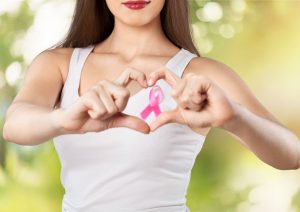 By Kerri Perry, MD, FACS
October is Breast Cancer Awareness Month but truly every day we need to be aware of our breast health. Your doctors will often discuss "risk factors" for breast cancer. The most significant risk is having two breasts. Second is female gender. Though males can develop breast cancer, the prevalence of breast cancer in men is much lower than it is with women.  I have seen four men with breast cancer in 25 years.
Age, family history, high risk fibrocystic conditions, and postmenopausal hormonal exposure are all important factors in determining one's risk level. However, breast cancer follows no rules!  I have patients age 23 to 97 years. Over 90 percent of my patients report no family history of breast cancer. Most of the women I treat have had children and breast fed. I have seen it strike people of all level of fitness and all shapes and size, from fitness instructors to individuals struggling with obesity.  It can occur in those taking post-menopausal hormones as well as those who opted not to.
My best advice:  examine your breasts regularly, have a qualified professional examine you yearly, and begin 3-D mammograms at age 40 or earlier if you have high risk factors.  Breast cancer is a very survivable disease!
I have seen great strides in my chosen field. When I began practicing 25 years ago, breast conservation (lumpectomy) was in its infancy.  Most women can now have a lumpectomy with proper management.  At Texas Health Presbyterian Hospital Flower Mound, the MarginProbe device can reduce returns to the operating room for involved surgical margins. Oncoplastic techniques including nipple sparing mastectomy have replaced disfiguring quadrantectomies and mastectomies of the 1980s.
Medical oncologists have learned in the last decade that tumor behavior, not size, determines the need for chemotherapy.  Estrogen sensitive tumors (70 percent) can undergo genomic testing such as Mammaprint and OncotypeDX to assess the need for chemotherapy in addition to estrogen blocker pills.  Neoadjuvant (before surgery) regimens can shrink tumors so a lumpectomy instead of a mastectomy can be performed.
Radiation oncologists can now offer five days of radiation instead of seven weeks in early stage breast cancer due to devices that were FDA approved in 2002.
All of these advances offer considerable hope, but you can make the biggest difference of all. Take control of your breast health.  Adopt a healthy lifestyle to reduce risks. If you are diagnosed with breast cancer, be proactive. Do your research. Make sure your cancer care professionals offer the latest advances from surgical, medical and radiation oncologic standpoints.
Kerri L. Perry, MD PA 
Women's Imaging Center
2560 Central Park Avenue, Suite 240
Flower Mound, TX 75028
940.243.9759
Texas Health Presbyterian Hospital Flower Mound is a joint venture owned by Texas Health Resources and physicians dedicated to the community and meets the definition under federal law of a physician owned hospital.  Doctors on the medical staff practice independently and are not employees or agents of the hospital.