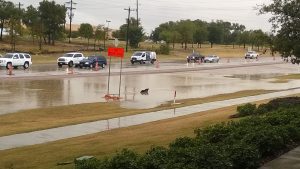 A Flash Flood Watch continues for Denton County through Sunday morning.
More rain is on the way Saturday and before it's all said and done, forecasters predict rainfall amounts up to 7 inches and a few areas will receive 8 to 10 inches.
We have picked up nearly 5 inches of rain at the Double Oak Fire Station as of 11:30 p.m. Friday.
As of 10 p.m. Friday, one lane in each direction of FM 2499 was open at Gerault Road in south Flower Mound. Southbound Gerault at Lakeside is closed and the Gerault flyover is closed.
A Flash Flood Watch means that conditions are favorable for heavy rain which may lead to flash flooding.
Monitor the latest forecast, follow us on Twitter and be prepared to take action should flash flood warnings be issued.