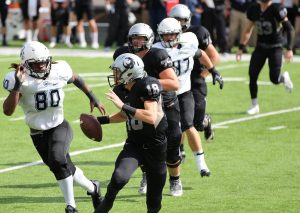 Here are the results from Friday's games:
Guyer mounted a dramatic comeback 12-10 win Friday afternoon over Byron Nelson with a last second field goal.
Argyle wins their 31st consecutive district game and clinches their 12th consecutive playoff berth with a 49-21 win over Dallas Carter at home.
The Marcus Marauders defeated McKinney Boyd 31-9 at Ron Poe Stadium in McKinney and clinched the No. 1 seed in the Division II 6A playoffs.
Liberty Christian dropped their second in a row with a 34-33 loss to Trinity Christian-Addison at Denton's Apogee Stadium.
The undefeated Allen Eagles shut out Flower Mound, 42-0.
Follow us on Twitter for news, weather, traffic and sports updates throughout the week.