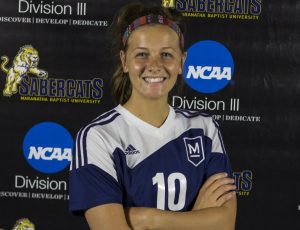 Olivia Doerstling of Lantana was named National Christian College Athletic Association (NCCAA) Division II Student-Athlete of the Week on Tuesday. Doerstling plays soccer for Maranatha Baptist University in Watertown, Wis.
She has consistently proven herself to be a vital component of the Sabercat front line to the 9-2-1 squad, and the Senior had a standout week in MBU's big wins over NCCAA opponents Grace Bible (MI) and Faith Baptist (IA).
In the 5-0 win over Grace, Doerstling scored the final two goals to seal the win, and added five shots with four on target. In the next game (a 10-0 rout of Faith Baptist), Doerstling once again bagged a brace, and added seven shots to help spark the on-point Sabercat attack.