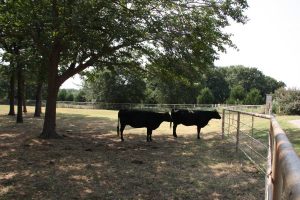 Land values are way up in Bartonville, and some large landowners are looking to cash in.
Dove Creek Estates, an 88-acre tract of bucolic meadows in Bartonville, is in the process of being developed into about 33 two-plus-acre lots out of what is now called S&D Ranch Addition, Lots 1 & 2.
Tyler New, a broker with Hat Creek Development who is working on this project, said Dove Creek is a perfect opportunity for families sending their kids to Liberty Christian School, which straddles the Bartonville/Argyle border.
"There's a need for this type of housing," he said. "A lot of people are coming from Southlake and Westlake who want this kind of home in closer proximity."
The school is a 4 to 5 minute drive from the location of the new subdivision.
In mid-July, the Bartonville Town Council approved a preliminary plat for the project, which is being presented by Richard and Susan Armey of Bartonville. Richard Armey is a former U.S. representative from Texas' 26th congressional district and House majority leader.
All of Dove Creek Estates will be residential, and will include a homeowner's association. Lots will be 2 to 2 1/2 acres and the land price will start at $300,000, New said.
Homes will cost $1 million and above, which is pretty typical for the area, he said. Statistical data shows that the estimated average house value in 2013, the most recent information available, was just more than $464,000.
But the style will be anything but the same. New calls the design a "transitional" form, moving away from the South Texas style toward more even blends including Tudors, Austin Ranches, more gabled roofs instead of straight line edges. More white will be incorporated in the design as opposed to dark, heavy stains.
"That's where we found an opportunity to strike," New said, referring to the combination of smaller lots and a somewhat more modern look. Most lots in Bartonville are 5 or more acres with large homes on them, New said.
This large parcel of land is one of the last two-acre residentially zoned subdivisions that falls within the Argyle ISD.
The subdivision will have a monument entrance and the whole area will have a country town feel to it.
There also will be a 12-acre section of open space inside the development. No parks or other amenities will be part of the project in order to keep the rural town feel, New said. The idea would be for residents to make a seamless transition into the development from outside of it.
Timeline
New anticipates the project, pending final town approval, would be completed fairly quickly. Development of the infrastructure would be completed in February 2016. The lots would be ready to go in March.
However, as of September 24, the Town of Bartonville had not received any further paperwork from developers.
"Inquiries are just flooding in," New said, adding that the project has met with unanimous support from the town and local residents.
"We're accepting lot holds and requests. We already have some lot holds."
Bartonville landholder Terry Rock isn't surprised about that, or about development happening in the town.
"It's a natural evolution," he said. "This happens every place. It's happened in all the cities north of Dallas. It should be expected."
Rock owns 84 acres of land separate from the 14 acres that his home stands on. He said he's just one of multiple landowners in Bartonville who own 80+ acres.
On his undeveloped tract, cows and horses graze. But he's also looking to sell off his property.
And it's no wonder landowners in the area are taking that path – land in Bartonville goes for $60K-$70K per acre and some is even bringing in $100K, Rock said.
Impact
Plat documents show that three additional roads would be added to the town's thoroughfare plan with Dove Creek.
With two cars per home, that would mean an extra 65-70 vehicles in the area. The Town of Bartonville has a population of 1,900.
Also, the addition of 33 $1 million homes would be a boost to the local tax base, New said. Right now, the owners are claiming various tax exemptions because the area is raw land.
"It's a win-win across the board," New said.
As the largely rural town is inching closer to suburban status, and open space may be closing up, Rock said only he can really know what's best for him to do with his land.
"Why would you try to dictate to somebody who has a lot of land that they have to keep it open?" he said. "[Bartonville is] going to be a wonderful place to live."