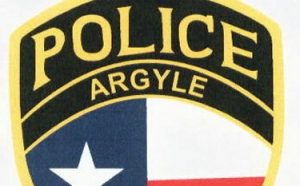 The following is a summary of incident reports recently made to the Argyle Police Department as compiled by the staff of the CTG:
A call came in that a man was seen lying next to a bicycle on a bridge near the side of I-35W and that he was slumped over and not moving. Police reported that the man said he was riding his bike from Justin to Denton for court and had stopped to take a break. The officer offered to give the man a ride the rest of the way but his bike wouldn't fit into the police cruiser.
Apparently a man was too tired to continue driving to his destination when he was found by police slumped over the middle console of his vehicle on the FM 407/I-35W ramp. The driver told police he was sleeping and didn't have a clue where he was. He thought he was in Fort Worth at 5 p.m. on a Thursday, but it was actually Argyle, at 11 a.m. on a Saturday. Police said the man didn't appear to have been drinking, and that he said he pulled over to the side of the road so he wouldn't crash because he was so tired.
Someone called to let police know that there were three men walking on a road median at night pretend sword fighting with driveway reflectors they had pulled up from a residence in the 900 block of E. FM 407. The caller said he was watching the men twirling the reflectors like batons. Police arrived on the scene and saw the three suspects getting into a vehicle, and they told the officer they hadn't messed with any reflector lights. One of the men said he saw a reflector on the ground in the area but did not tamper with it. Police found the reflectors not far from their original location on the side of the road. An officer put them back.
A white ram with horns was spotted on the side of the road in the 8800 block of Hwy. 377 on the morning of September 15. A caller said it was right in front of American Pet Spa just north of Liberty Christian School. It turns out it was a loose goat and he was out of Argyle's jurisdiction.
A breakup led to a report of criminal trespassing after a man with no shirt or shoes was seen near the Union Pacific Railroad tracks about half mile north of Hwy 377. The man told police he and his girlfriend just had a fight while driving from Denton to Southlake and he got out. He told police now that they were broken up, he had nowhere to go, but said he didn't need help. An officer told the man to stay off the railroad tracks.
Police received a report of a man walking toward Paradise Liquors in the 1200 block of FM 407, drinking margarita mix. He was apparently acting strangely like he was on drugs. He was wearing a camouflage bandana and a yellow shirt with blue jeans, swinging around a rope like a whip.
A man who spoke to police was pretty upset that his Gooseneck-style trailer was impounded by police early last month. He said he would get his trailer back from the impound and "shut Cherokee Trail down with it," per police reports.
A woman called and said she had found a donkey and a mule and put them in her pasture on Michael Road for safekeeping.
Police received a call from a man who claimed to be having cardiac difficulties inside the Subway restaurant at a Shell gas station in the 8100 block of Gasoline Alley in Northlake. The man was apparently coming down from methamphetamines and pain killers. He also took K2 that day. The 23-year-old man had knives with him, and said he bought a throwing knife kit with ninja stars. Police assisted the fire department on this call.
A woman was seen driving down I-35W with a baby in her lap. She was driving a black GMC Sierra, swerving near mile marker 78. An officer stopped the vehicle and issued citations. The woman, who was the baby's mother, secured the infant in a car seat while an officer observed.
A resident called police to say that a neighbor reported that she heard a gunshot south of her property at Herriot Lane and Old Justin Road, and someone yelling for help. It turns out, a nearby resident had shot an armadillo which had been digging up their flower beds. He said the armadillo was not acting oddly or in a manner that would make him think it was rabid. Police advised the shooter of the town's ordinance on firearms and suggested an alternative solution.
A woman called 911 because a red pickup truck was allegedly trying to run her off of I-35W at mile marker 77. The woman, who was driving a black Honda Sierra, had two small children in the vehicle with her at the time. Apparently, the pickup had passed the Sierra several times but kept getting behind and next to it, weaving in and out of traffic. Eventually, the caller lost sight of the pickup, which had a "Don't Mess With Texas" sticker on the back.
A man called police to say that an orange cat without a collar was wandering around the area and kept attacking his cat. Police went to check it out but could not find the stray cat. The officer advised the caller to contact animal control.
A feud between roommates led to a mess at a home at Dry Creek Apartments in Northlake. Argyle police helped out on the call and their reports indicate that roommates started arguing over burnt pizza and one of them started throwing kitchen utensils. The parties were separated.