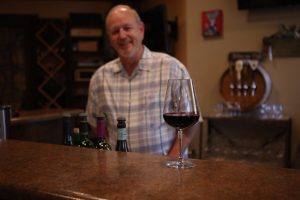 Dan and Hazel Adams have poured their hearts into showing people around Europe and America through wines that bleed cultures and cuisines unlike any on the Texas prairie.
Call it a tour of the world's best vineyards wrapped up inside the tiny, country corner of Bartonville. Call it Grapes to Wine.
"We look at this room as our living room, and we try to give it that feel, that you're guests–come in, sit, relax and make yourself at home," said Dan Adams, who spent most of his childhood overseas and learned about wine in Europe, then moved to Maryland, where he met his wife, Hazel, before ending up in the Lone Star State.
With those roots, it's no wonder Grapes to Wine has been a big hit with locals. In fact, business has grown steadily since the store and wine tasting club opened five years back.
The shop is expanding once again, taking over a bigger suite within its current building at Bartonville Town Center this month.
"It's considerably bigger, a couple thousand square feet," Adams said of the new location that previously housed a Mexican restaurant. "Plus it gives us a patio, an outdoor space which we're putting a roof over. We just needed more space."
Grapes to Wine has even received accolades from former Tonight Show host Jay Leno, thanks to a witty ad in this newspaper a few years back.
"We have wines on tap—we were one of the first ones in Texas to perfect that and get that working. We also have live music on Friday and Saturday nights—people come in, get an appetizer and a couple glasses of wine, listen to music and it's a fun evening," he said.
Another component of Grapes to Wine's success is their wine club, said Jim Bridges who has been a member since 2011.
"To us, my wife and I have three kiddos, so we go up there once a month for our date night, some Mom and Dad time," Bridges said. "For us it's a place to go where they know us really well and make us feel welcome.
"We have something to eat and taste some wine, usually bring some back that we never would have tried otherwise. It's a place to go see friends, and by 'friends' I mean the people who work there as much as people we might run into."
Grapes to Wine is how the Adams' will spend their retirement and they plan to make it go vintage someday. Several of their children help out around the store, and 13-year-old Samantha wears a T-shirt proclaiming herself the future owner.
"We grew in small increments," Adams said. "We hit our four-year numbers within the first year, and our wine club after three years had 500 members, and it just seemed like the people in the neighborhood were accepting us and enjoying coming and being part of this.
"With the expansion, we just feel like we'll be able to continue on and grow. We're truly grateful for the support of the community."
Grapes to Wine's Classic Wine Club is a little community unto itself.
"It exposes you to wine that you won't normally try at different places," Adams said.
Club members are introduced to four reds and two whites, encouraged to try them all and to select two favorites to take home.
Members become increasingly confident in their ability to choose a good wine. Sometimes they're even inspired to visit places they might never have gone.
"It definitely expanded our horizons quite a bit on different types of wine," Bridges said. "We did end up going to France, Italy and Spain and visiting some vineyards that we might never have gone to had it not been for just trying different stuff in the wine club."
Bridges said the main thing that sets Grapes to Wine apart from a typical wine store is the feeling that instead of shopping, he's spending time with friends.
"Dan and Hazel have a lot to do with it, just the way they make you feel when you go in there," he said. "They're very inviting and open people — it feels more like dealing with a friend than someone you're doing business with. I think that's a big part of their success."