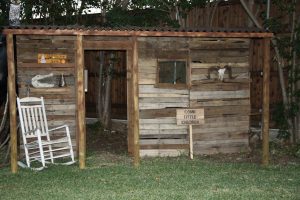 On Halloween night, visitors to the spooky Twin Oaks Manor in Flower Mound can share the love of the holiday with owners Michael and Tiffany Skalberg.
"We have been preparing since July," said daughter Aurora Skalberg. "It is the most important holiday at our house. My family has always been creative and inventive. We love do-it-yourself projects and Halloween is the perfect time to showcase our talents."
She added that the family is currently in the middle of building, decorating and setting up for this year's haunt.
"Ever since I was little, my mom was hand-making my sister's and my costumes," said Skalberg. "We have such a big backyard that we always had this idea of a 'haunt' for our trick-o- treaters to walk through. We finally made that a reality last year, when we held our first annual haunt at Twin Oaks Manor."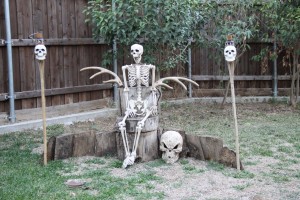 The "haunt" includes several different theme-areas, such as a creepy circus, a monster party, a scary nursery, a graveyard, an alien crash site, the Wizard of Oz and a headless horseman. The family has built the entire spooky walk by themselves.
Located in a cul-de-sac just north-east of the intersection of Morriss and FM 1171, the family started the Twin Oaks Manor to increase the historically low number of trick-or-treaters.
"Last year we had about 60 people walk through and this year we are looking to double it," said Skalberg.
She said she asked her father how much he had spent on the" haunt."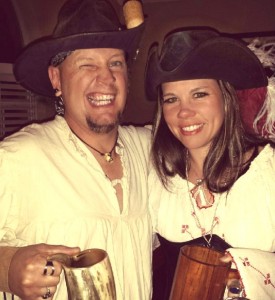 "He laughed and said he stopped counting after about $3,000," she said. "We have bought many things you can find at local Halloween stores, but what makes us stand out is how we modify these ordinary decorations to make them even better and scarier. We even have a pirate ship in our front yard."
The family-friendly holiday site at 3705 Twin Oaks Ct. is open only on Halloween night, between 7 to 9 p.m. Visitors can turn onto Cortadera St. (off Morriss Rd., north of FM 1171) and then turn south on Twin Oaks Ct.
For more information, the family has a Facebook page dedicated to its favorite holiday.
Do you know of other local haunts?  Tell us here.