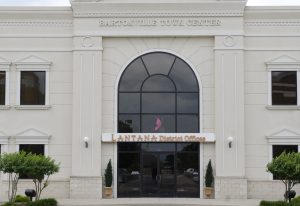 Denton County Sheriff Will Travis gave Lantana's two fresh water supply district boards an update at their September joint meeting.
Travis said false alarm calls were up in Lantana, with 437 calls this year as of Sept. 2, compared to 562 in 2014. Traffic related calls are the number one complaint that deputies respond to in Lantana.
Crime is considerably down all over the county, Travis said, including the number of business and home burglaries.
Travis said that he is keeping a deputy in or near Lantana at all times to increase visibility, and has added extra patrols when the schools opened and during the two annual garage sales.
"We've been throwing pretty much everyone we got into the community when they are available," said Travis.
Travis said he encourages residents to call the sheriff's office if they have a concern about speeding in their neighborhood.
"We will be happy to come out and work that street for a period of time to get the speed down and we'll keep on coming back as we need to."
Identity theft is a growing concern in the community, Travis said, as there were 74 offenses reported so far this year compared to 49 in 2014.
Denton County Pct. 1 Constable Johnny Hammons also addressed board members.
Hammons said his precinct has four deputy constables and spans 63 square miles from Lantana up to the Lake Cities area into Denton.
"We are more focused on the civil part. We provide the bailiff for the justice of the peace court and serve warrants," said Hammons.
He said that the majority of warrants his department serves are for speeding, running stop signs, and failure to carry auto insurance.
Although the constable's office does not respond to police calls, Hammons said that he instructed his deputies to drive through Lantana when they are in the area and monitor the police radio.
"If they have down time I want them to drive through and make a presence," said Hammons. "If one of our guys is anywhere close and a priority call comes over the radio for help, we will assist until the sheriff's deputies can get there."