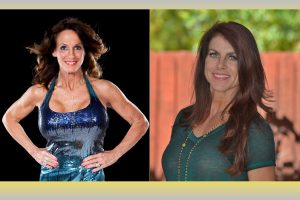 Recently named Best of Denton County for the 4th consecutive year, Jesse James Fit credits much of its success to the trainers and staff who support the weight loss and fitness goals of each and every client.  Here we introduce our reader to two of these team members both of whom love our community and their work at Jesse James Fit.
What is your role at Jesse James Fit, and how long have you been affiliated with the studio?
 Sally: I became a JJF client training with Jesse almost six years ago.  I joined Team JJF in 2010 and have had various operations and administrative roles, although my primary role at the moment deals with accounts payable.
Tammy:  I began training with Jesse in the fall of 2008 and joined the JJF team as a personal trainer this year (2015).
How long has your family has lived in the Flower Mound/Highland Village/Lewisville community?
 Sally: Don & I moved home to Texas in 1988 after some years in Colorado, and picked Flower Mound as our new hometown.  I vividly remember the population signs in town saying 11,000.  Wow, how Flower Mound has grown!  We stayed in Flower Mound through our children's high school graduations and then decided to downsize to our current home in Highland Village.  We love this area and have never regretted our decision to raise our family in this community.
Tammy: My husband, Joe, and I moved to the Flower Mound area in March 1997 when it was still a very rural area, and have recently moved into a home on Lake Grapevine.  We have two children, Susan and Cooper, both of whom have attended Flower Mound High School. We love it here and can never imagine living elsewhere!
What is your proudest moment at Jesse James Fit so far?
 Sally:  I have many, but probably my proudest moment came when I asked Jesse at 57 years of age if he thought I could do a fitness show.  He looked at me, just as he had done the day I met him, and said, "Sal, you can do anything you set your mind to"….  And I did.
Tammy: I feel proudest when I hear my clients say that they really look forward to coming here to work out even though it's grueling, and when I see my clients smile when they notice how their muscles are starting to take shape.
What do you want to share with every one of the Jesse James Fit clients?
Sally:  That personal training is for everyone!  By working together with your trainer, training partners and studio family, you can achieve health goals for a lifetime not just for an event, vacation, or fitness competition.
Tammy: I love helping people transform not only their bodies but their minds toward physical fitness and living a healthier lifestyle daily not just on the weekends or when it's convenient for them. I firmly believe that Consistency is Key!
If you could pick one theme for Jesse James Fit to turn into a book about the company, what would it be?
 Sally:  Personal Training is NOT just about changing how you look.  It is about changing your self-image to accept everything about yourself and realize how much you can offer the world!
Tammy: The Triple Threat.  Jesse James Fit and our affiliates, Outlaw Bootcamp and Outlaw Fit Camp, are here to stay!
Follow Sally Hawkins, Tammy Solinski, Jesse James Fit, Outlaw Bootcamp and Outlaw Fit Camp on Facebook.