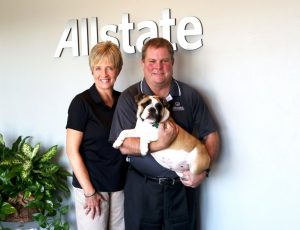 A new option for insurance coverage is now available to residents of southern Denton County.
The Gorrill Family Agency of Flower Mound recently opened an Allstate location at 4030 Justin Road. Ste. 101 in Flower Mound, (on FM 407 across from Crossroads Bible Church and next to Brad Duren, Dentist) and owner Scott Gorrill said that he and his family chose that location for a reason.
"We have lived in Lantana since 2004," Gorrill said. "It's a great location and great opportunity to serve the people in this growing area."
Scott and his staff have gotten to know many local families and he said being a part of the community and building relationships are two of the best parts of what he does.
As a local, Gorrill knows what life is like in the community and understands that area residents choose cars, homes, boats and more to fit their lifestyles, while staying within a budget.
The Gorrill Family Agency also understands how important it is to do the same when it comes to protecting those assets, and looks forward to getting to know you and helping you find the solutions that meet your needs.
Allstate offers auto, home, condo, renters, boat, golf carts, motorcycle, business, life and other types of insurance at an affordable price, and Gorrill said he would like prospective customers to know a few things.
"We are customer service driven," Gorrill said. "We are not just trying to sell a "one size fits all policy." We help people understand what the risks are that they face and how to prepare for and cover those risks."
Gorrill, who spent the last 25 years in financial services, said he is extremely proud of his staff's responsiveness to customers' needs and said he could not have chosen a better location or community to be a part of.
Allstate in Flower Mound is open Monday-Friday from 8:30 a.m. to 6 p.m. and Saturday from 9 a.m. to 12 p.m.
Visit https://agents.allstate.com/l-scott-gorrill-flower-mound-tx.html or call 940-282-2850 for more information.