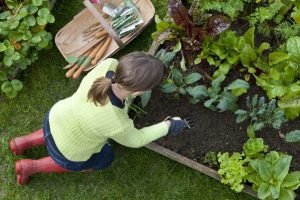 Have you thought about becoming a Master Gardener? Join us for a reception this Tuesday, October 20, from 10 a.m. until noon to learn more about it at the Texas A&M AgriLife Extension office at the Joseph A. Carroll Building, 401 W. Hickory St, Denton. You will meet veteran Master Gardeners as they describe their experience and learn about the many programs you can become involved in to help educate the community. Light refreshments will be served.
Master Gardeners are volunteers for Texas A&M AgriLife Extension, educating Denton County residents about safe, effective and sustainable horticultural practices that help promote healthy gardens, landscapes and communities. In 2014, Denton County Master Gardeners contributed more than 14,000 volunteer hours to help schools, churches, businesses and citizens with various horticultural projects. Master Gardeners conduct presentations, answer lawn and landscape questions from the public and partner with other local organizations to better our community.
Master Gardeners are intensely trained in a 70-hour course on all aspects of horticulture such as plant pathology, insects, landscape horticulture, vegetable production, lawn care and soils. The class is held all day each Tuesday, from February through early May.  All classes are held at the Global Spheres Center, 7801 S. Stemmons Freeway (I-35E) in Corinth.  The tuition for training for the Class of 2016 is $240, which covers the manual, class t-shirt, badge, instructor fees, and graduation dinner costs.
Upon completion of the classroom training, you will become a Master Gardener Intern and must fulfill 70 volunteer hours of service in the community in order to become a Certified Master Gardener. Once certified, Denton County Master Gardeners earn a minimum of 12 hours of advanced training and volunteer a minimum of 12 hours annually in order to maintain active status.
Those wishing to apply for the program must do so by October 22. Applications are available online at www.dcmga.com or by calling 940.349.2883.
Janet Laminack, County Extension Agent-Horticulture, Texas A&M AgriLife Extension – Denton County, [email protected], (940) 349-2883 or Metro (972) 434-8812