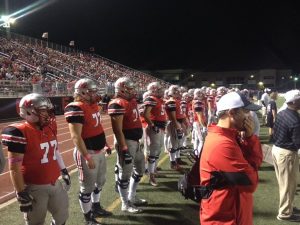 by Cole Carrick
Down 7-0 late in the first quarter, Marcus senior C.J. Respass found a gap in the Plano East defense and converted a key first down.
He scored on the first next play, giving the Marauders their first points of a 35-0 run that would put the game out of reach for the visiting Plano East Panthers.
Respass finished the game with 28 carries and a season-high 234 yards, along with a pair of touchdowns. He, along with fellow senior tailback Nate Hopkins, benefitted from by a dominant performance from the Marcus offensive line.
Hopkins saw a decrease in playing time after fumbling on the Marauders' opening possession, but was able to shred the Panthers' defense on a 94-yard drive that put Marcus up 21-7.
The Marauders' defense forced some key turnovers, highlighted by fumble recoveries from both seniors Dylan Holcomb and Zach Gough. An overall performance from Marcus improves their record to 7-1, and keeps the Marauders undefeated at home.
The win streak stands at three for the 7 and 1 Marauders as they take on McKinney Boyd in their final road game of the regular season.