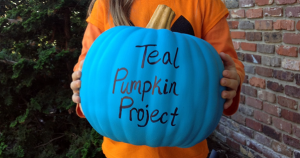 Halloween can present issues for southern Denton County children with food allergies.
The Teal Pumpkin Project was created by the national Food Allergy Research and Education program in an effort to provide a fun and safe trick or treating environment for those with food allergies.
The goal is to encourage 100,000 households and organizations to paint pumpkins teal and display the pumpkin in front of the home or business as a sign that non-food treats, such as glow sticks, bubble, stickers, etc., are available.
The Food Allergy Institute of North Texas, with offices in Flower Mound and Denton, is coordinating a campaign with Trinity United Methodist Church to promote the project in this area.
Trinity UMC, located at the corner of Hobson Lane and Teasley Lane in Denton, is widely recognized as the "pumpkin patch church" with its nearly three acre pumpkin patch each October, attracting thousands each year.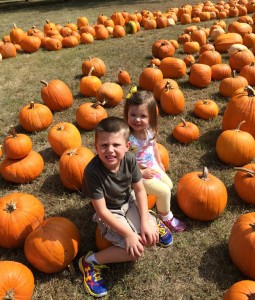 As part of its program, Trinity will hold a trunk or treat evening on Saturday, October 24, from 6 p.m. to 7:30 p.m. A number of the decorated trunk or treat vehicles will be designated as Teal Pumpkin trick or treat locations.
In addition, everyone purchasing a pumpkin during the October Pumpkin Patch sale will receive a Teal Pumpkin flyer to promote the program in Denton County.
"The Teal Pumpkin program is designed to make sure children with food allergies, some of which can be fatal, can enjoy the Halloween season just as much as anyone," said Amanda Helms of the Food Allergy Institute of North Texas. "We are happy to have Trinity be a part of this awareness campaign," Helms said.
Trinity senior pastor Dr. Jim Bowden said the Teal Pumpkin Project reflects Trinity's commitment to children.
"Children are a vital part of Trinity and so much of our ministry revolves around the children," said Dr. Bowden. "The Teal Pumpkin Project is a perfect program for our congregation to be involved in. We look forward to getting the word out with our pumpkin patch this month and are excited about the opportunities we can offer during our trunk or treat event on the 24th."