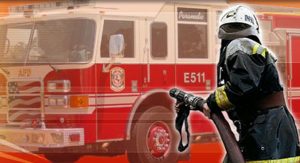 A 25-year-old man was severely burned at a Bartonville business on Tuesday morning.
Argyle fire units responded to a report of a fire/explosion at Bonded Lightning Protection Systems on Leesley Ln. around 10:30 a.m.
Argyle Fire Chief Mac Hohenberger said a subcontractor of the business was attempting to start a gasoline-powered water pump when it backfired, causing burns to 40 percent of his body.
A CareFlite ambulance responded to the scene and transported the man to Parkland Hospital in Dallas.
Bonded Lightning Protection Systems, Ltd., provides lightning protection and grounding services for commercial, residential, and industrial structures.