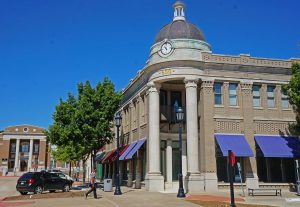 The most-discussed agenda items at Monday's Flower Mound's Town Council meeting both involved the forthcoming Entrepreneurial Center and the town's lease of 4,600-square-feet in Parker Square for three-years, with a two-year renewal option, to be managed by Day One Consultants.
Mayor Tom Hayden said he is in support of the center, but had concerns about such a long-term lease commitment without some standards to measure the success of the center; a way to judge if the town's investment is "paying off."
The question of how to judge entrepreneurial success, led to a discussion of how to make a judgment if there are no goals listed– some parameters to meet—to reach.
"Any goal without a timeline is a dream," said Hayden
The lease agreement will include town reimbursement of real property taxes paid and the management company for the center will not charge for first year operating expenses and it will be responsible for HVAC and other related charges.
The council unanimously passed leasing the ground-floor space located at 600 Parker Square. The building is best-known for featuring "the clock" at its corner entrance in the heart of the retail/office development.
The council then considered a Professional Services Agreement (PSA) with DayOne Consulting to operate and provide consulting services for the new entrepreneurial center. The firm will provide consulting, professional and management services for a three-year term, with one-year extensions options.
The town will be represented by Economic Development Director Mark Wood, who will be appointed to the center's 501 c3 Board of Directors. Also, agreed upon was a quarterly payment of $33,000 to run center, with a progress report from Jason Adams, chief executive officer of Day One Consulting.
Prior to council's vote on the PSA, Deputy Mayor Pro Tem Itamar Gelbman questioned why only Day One Consulting was being considered to manage the new Entrepreneurial Center. He said he'd like to table the PSA to allow the town staff to gather some more resumes before voting on the matter. He moved to table the vote indefinitely and Brian Rountree seconded.
Council member Kevin Bryant said that the town had been working with the consulting firm for the past nine-months on the specifics of the center and Adams was the only person to respond to the town's initial search for consultants.
"I don't know why you'd approve the lease agreement, but no one to manage it," said Hayden.
The PSA was granted with a four-to-one vote; Gelbman voted against.
The center is anticipated to open by the beginning of 2016. DayOne Consulting will set-up the center as a non-profit and manage it for its first three years, after which it should be self-sustaining through sponsors, mentors and members.