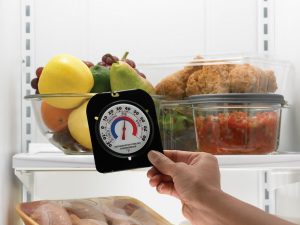 Of Flower Mound's 300 food establishments, a handful stand above the rest when it comes to handling food safely.
Flower Mound's Environmental Services Division recently recognized several food establishments in town with Food Service Awards of Excellence for consistently demonstrating the highest standard in food service quality and safety.
To receive recognition, establishments must be in the top 1-to-2 percent in all inspection scores, have no critical violations, no valid or verified complaints, and no health-related closures in the past year.
One winner was selected in each of the five categories of food establishments in Flower Mound based upon a secondary inspection conducted by three Flower Mound Inspection Specialists who inspected all finalists' establishments. (Winners are noted with **):
Full Service
Red Robin**
Pazzo Wood Fired Pizza
Modmarket
Fast Food
Panda Express (5861 Long Prairie Rd)**
Chick-fil-A (2001 Long Prairie Rd)
Pizza Hut (1181 Flower Mound Rd)
Sandwich/Deli
Jimmy John's**
Jason's Deli
Subway (765 Cross Timbers Rd)
Jersey Mikes (3651 Justin Rd)
Grocery Store
Target**
Market Street
Sprouts
Hospital/Assisted Living
Rosewood Assisted Living**
Autumn Leaves
Flower Mound Assisted Living