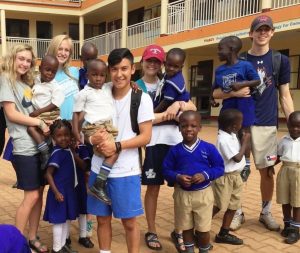 When students returned to Liberty Christian School in Argyle to begin the school year, two of them took the time to reflect on their trip to Uganda with the school this past summer and share their memories and the impact the trip had on their life.
The trip, held June 2–11, was the ninth consecutive summer students have traveled to God Cares Primary School and Buyamba Orphanage.
One junior said, "I overflowed with joy as we arrived at the orphanage. Kids hung all over us, smiling and wanting to play with us. One of the many things the Lord revealed to me while watching them was how genuine and pure their hearts were for the Lord. Their voices in chapel were beautiful, and they used every ounce of themselves in worship. As the week progressed, it became evident that the orphans were pouring just as much into us as we were into them. We all had awesome conversations as we learned from each other and built each other up in fellowship. Our group also grew closer in our team dinners together and nights of worship to end each day. As the week concluded, our entire team was amazed by the sincere joy these students and teachers had in Uganda, even though they had so little monetarily, which really opened our eyes and affected how we live now that we are back at home and back in school. We agreed that the Ugandan people are so loving, and we would all love to go back just to hang out with them and see their smiling faces again."
While in Uganda, students led chapel services and made home visits. One group walked almost nine miles to a student's home. This girl carries her baby sister on her back every day to school. Students also led three Awana services for more than 350 children from the orphanage and the surrounding villages. On the Sunday they were there, students and staff led the church service and taught in the Sunday School classes.
A senior added about the trip, "Jesus lives in that place in a powerful, fresh way. He lives in the Tuesday fasting and worship time the high school students have to praise God. He lives in the hands of the little orphans whose only hope is Christ. He lives in the homes of the children we got to visit and in the far off villages where a woman gave everything she had to start a school. By the end of the trip, God revealed to me that He wanted to open my eyes to see how big His heart is and how powerful His name is that is glorified around the world."
Campus Pastor Chris Searcy added, "We go to Uganda every summer to serve and encourage teachers and their students alike. We also go because we want to learn from these wonderful people who have learned to walk every day with the joy of the Lord, despite their cultural circumstances.
"They have such a strong faith and dependence on the Lord that is unfathomable to us who have lives full of iPods, to-do lists, cell phones, and television."
Over the years, Liberty has purchased tiles for the outside of the orphanage that helped the overall look of the facility. With the help of Liberty families, students built a large pavilion that gave the children a place to eat under a shelter and a place for the Ugandan women to cook the children's meals every day. Liberty students also cleared 15 acres of land to prepare to build a new high school, and the following year, the team built and finished the first floor of the new high school. Liberty students have built a security fence around the new high school. Liberty has also paid for a fence for a village school in need, provided teacher training for staff and administrators, and conducted a medical clinic for orphans and the surrounding community. In most recent years, Liberty students built two outdoor classrooms for the primary school that was overcrowded.
God Cares Nursery and Primary School opened in 2002 with 97 children in the basement of the church that Pastor Bethuel and Florence Dongo founded. Currently, Buyamba financially supports the education and care of more 1,500 children through its sponsorship programs. Their mission is to offer love, hope, and a future through education and discipleship … one child at a time.
God Cares School provides students opportunities to realize their full potential through academics and extracurricular activities. Students discover and develop their own aptitude and interests, whether academics, sports, or the arts. It encourages all its students to believe in themselves, to think independently, and to face challenges with confidence, determination, and a sense of excitement.
Searcy concluded, "God continues to open our eyes to His greatness and goodness through seeing life through the eyes of the Ugandan children."