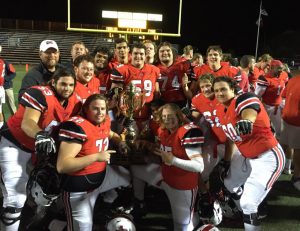 By Mitchell Mason
In a battle of two crosstown rivals, better known as the "Mound Showdown," the Marcus Maruaders pulled away from the Flower Mound Jaguars in the second half in front of a sold-out crowd Friday night, winning 34-14.
Flower Mound attempted to make a statement on the first play of the game, going deep, and even though they were able to get a pass interference call, back-to-back sacks killed any momentum for the drive and the Jaguars were forced to punt.
The Maruaders put together a nice drive, converting a 4th down on a completion to star WR Kaden Smith en route to a 5-yard CJ Respass TD run.
After Flower Mound missed a field goal, Marcus took advantage, with Nate Hopkins bursting up the middle for 39 yards to double the lead to 14-0.
Later in the 2nd quarter, on 3rd and 13, Noble Newton threw a gorgeous ball deep downfield to Freddie Jackson for 73 big yards to chip away at the lead, making it 14-7.
After a great kick return, the Maruaders killed any moment the Jaguars had, when Respass found paydirt again to increase the lead to 21-7 at the half.
Neither offense could do much in the 3rd quarter, until Newton scrambled and threw to Desmond Joy, who ran down the sidelines to cut the lead to 21-14 heading into the final period.
Flower Mound had a chance to tie the game, after a Maruader fumble in the red zone, but Newton was picked on 3rd down, and Respass again made them pay, with his 3rd TD of the night.
Marcus would add two field goals on their final two possessions, clinching their second straight win in the rivalry.
Newton played well throughout the game, passing for 334 yards, but the two crucial turnovers and constant pressure from the Marcus defense cost the Jaguar offense.
Despite the tough loss, Flower Mound students are hopeful for the rest of the season, and continuing the rivalry in other sports.
"Obviously losing to your biggest rival is very tough." senior Rosette Elana Stolinsky said. "It was such an electric atmosphere, and we hope we can recreate the same when we play Marcus again."
Marcus travels to Plano West next weekend.
Flower Mound returns home to do battle with Lewisville.