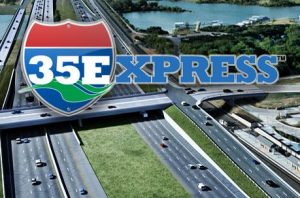 Construction crews will move northbound Interstate 35E traffic onto the new southbound bridge over FM 407 in Lewisville this weekend.
While the work is being performed, various lanes of northbound I-35E between Valley Ridge and Garden Ridge Boulevard and the northbound I-35E entrance ramps from FM 407 and Valley Ridge Boulevard will be closed from 10 p.m. Saturday until 10 a.m. Sunday.
As crews work to shift traffic onto the new bridge, there will be intermittent closures of the interstate.
Northbound traffic will be stopped in 15-minute increments. Northbound motorists should expect heavy delays in this area.
As a result of the switchover, the northbound entrance ramp to I-35E from Valley Ridge Boulevard will be closed through summer 2016. Motorists will continue down the northbound frontage road to the entrance ramp from Eagle Point Drive (north of FM 407). The roadway is being reconfigured to allow entry to northbound I-35E from this location.
Also, northbound I-35E motorists will now use the FM 407 exit ramp (north of the KCS Railroad) to access FM 407, Garden Ridge Boulevard and the DCTA Highland Village station. This will be the last opportunity to exit for FM 407, the DCTA Highland Village Station and Garden Ridge Boulevard prior to Lewisville Lake.
After the shift, crews will demolish the remaining section of the FM 407 bridge and begin work on the new northbound mainlane bridge. Two lanes of FM 407 (one lane in each direction) under I-35E are expected to open by late 2015.
This work is related to the 35Express Project, an expansion of I-35E between U.S. Highway 380 in Denton County and I-635 in Dallas County.
For more information on the 35Express project and to sign up to receive traffic alerts, visit www.35Express.org or call 214-483-7777.