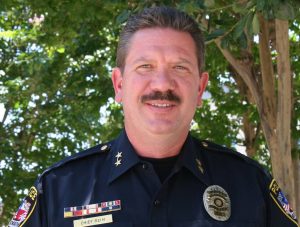 What a fantastic year it's been since I was sworn in last September.  I've reached out to as many of you that I can, but unfortunately have not had the opportunity to meet more of our residents and community members, but I can assure you—I'm working on it!  I would like to first mention the high level of commitment this department places on community policing – that is engaging the community through many programs that offer something for everybody to get involved.
By the time you are reading this, we will have finished Steaks & Stetsons, a fund raiser for Special Olympics Texas, Area 11, which is expected to raise more than $25,000 for our area athletes.  I'd like to recognize Chief Andy Kancel (Flower Mound PD), Chief Russ Kerbow (Lewisville PD), Chief Derrick Watson (Double Oak PD) and Denton County's Sheriff Will Travis who emceed the event.  This was not the first event this year where the departments merged forces to raise awareness of Special Olympics as I'm sure you saw officers and deputies in Red Robin, Texas Roadhouse, and Dunkin Donuts all pitching in for this special cause.
The Highland Village PD is actively engaged in three different charity fund raising programs each year:  Special Olympics Texas, The Fallen Heroes Annual Bike Race and 5K Run and our Christmas Toy Collection.  As previously mentioned, we have partnered with other agencies for Special Olympics and are again combining efforts with Flower Mound PD our 8th Annual Fallen Heroes Bike Race and 5K Run held in our own Shops at Highland Village on October 17.  Our toy drive will start near Thanksgiving.
This year has been a very sad year for Law Enforcement Officers across the nation.  Since January 1, 2015, already 95 officers—with 10 in Texas, have been involved in line of duty deaths.  Police officers do not sign up to fight with people, shoot people – or be shot at—they sign up because they want to make a positive difference!  The Fallen Officers Fund is administered through the Texas Police Chiefs Association which delivers funds within 24 hours to the immediate family of an officer who is struck down in the course of his or her duties.
It is a clear message to the family that there are many people out there who still care about police officers and mindful of that ultimate sacrifice.  We thank the countless donations over the years which now exceed $20,000 every year.  We are hopeful this year will continue this tradition and strengthen our bonds between our communities and the BLUE as it has with our partner, Flower Mound PD, and businesses from our surrounding communities.
Again this year we have partnered with the Highland Village Business Association for Restaurant Week which supports the Fallen Officers Fund. Many of our local eateries are either donating a portion of their sales or hosting an HVPD Tip a Cop event during the week of October 11-17.  If you are interested in supporting this cause you can dine at a participating restaurant, donate a raffle item, bid on a raffle item, participate in the 5K run or Bike Race or come out and enjoy the festivities on October 17 at The Shops at Highland Village. All the details can be found on the Fallen Hero Bike Race page at www.thehvba.com.
Our third charity fundraising event, our Christmas Toy Collection, is expected to be without doubt as successful as it has been over the past few years with a conservative estimate of about $20,000 in toys being collected and distributed to children throughout the county.
What else can you expect from us in the future?  January 1, 2016, extends the formidable partnership between The Shops at Highland Village and the police department when we will begin to provide regular and assigned police officers to the Shops versus random patrol coverage.  The improved law enforcement presence is possible because the Shops recently provided the police department with a storefront location on site (behind Whole Foods).  This storefront allows us to store a golf cart, bikes, and future personal conveyance equipment on site and instantaneously accessible for people assigned on property.  With an increased presence of sworn officers on-site, our goals are to provide a visible sense of safeness while hopefully deterring any future criminal activity.  The Shops and Highland Village Police Department hope to keep this property the safest shopping and dining area in all of Texas!
Another change which is meant to enhance both safety and health combines a few items.  We will be upgrading our dispatch center and radios to better communicate with other Denton County agencies.  This affects our Fire Department also as Denton County is in the process of upgrading their communications system and Lewisville, who is our current radio provider, will be going to the Denton County system as well.
In addition to the radio system, we will be changing our Computer Aided Dispatch (CAD) software and Records Management System (RMS) with the help of Integrated Computer Systems (ICS), a local company in McKinney, TX.  Why is this significant?  The newer technology will allow Flower Mound PD (who currently uses ICS) and us to link our systems, and with inter-local agreements, allow either dispatch center to dispatch each other's Emergency Medical Equipment and personnel instead of transferring calls and losing precious moments when rescue teams should be rolling.  We will be the first such site (to our knowledge and belief) in Texas to move in this direction and are hopeful nearby agencies will join us in the future.
I realize to some, this may be too long, and for others, too short, so I will extend an open invitation to sit down with you to discuss any of the above topics or other topics you would like to discuss.  I thank all of you for your past, but more importantly, future support of our local police departments and I hope we exceed the standards you believe we should have.  Take care and Happy Fall!