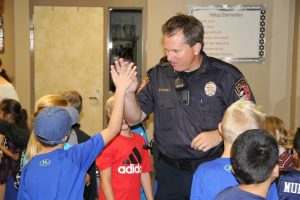 Every morning and afternoon in Argyle ISD you will see a police officer clad in uniform making his way around each campus to help with directing traffic, guiding students, and providing protection.
Who is the man behind the badge? His name is Chief Paul Cairney. He was hired last year by the Argyle School District as a part time police captain and then became interim chief shortly after. After serving successfully as the interim chief he was then officially hired as police chief of Argyle ISD last May.
Cairney has been a positive addition to the Argyle school district, bringing with him a vast law enforcement and military background, school officials said. He served 21 years as a security forces officer in the U.S. Air Force and retired as a Lieutenant Colonel in 2013. In the Air Force he was a police chief in six locations worldwide. He served for six months as the police chief of the International Zone in Baghdad, Iraq, in 2008.
Cairney graduated from the U.S. Air Force Academy in 1992 with a Bachelor of Science in Military History and a minor in German; he earned a Master of Arts in Religion from Liberty University in 2003, and a PhD in Leadership from Louisiana Baptist University in 2007. He published his dissertation in 2010.
Cairney's goals for Argyle ISD are to increase the safety of the campuses and the school activities through working with other emergency response agencies in this area to make Argyle ISD's emergency responses even more effective, through coordinated plans and exercises.
He is also working to expand the armed staff program so Argyle has a greater deterrent and even more effective response capability.
"One goal I have is to make the younger students' first exposure to police officers a positive one; I want them to really know that if they ever need help they can approach a police officer without fear and know they will get the help they need," said Cairney. "Ultimately, I consider myself a part of the learning environment, so I will do anything I can to support the teachers, coaches and administration."
Cairney said that he really enjoys working for Argyle ISD for a number of reasons. One is the interaction he has with the students at all campuses. Cairney enjoys working with students who are setting goals and actively pursuing them, whether planning their college careers or future careers. "Some have expressed interest in military or law enforcement careers and I love encouraging them as they pursue them."
Two weeks ago Argyle ISD showed their support to local and state police officers by promoting "Back the Blue." The elementary students along with the teachers and staff decorated their classes, and dressed in blue clothing, tutu's, and costumes. Argyle Intermediate, Middle, and High Schools also participated. Students lined the halls of the schools proudly wearing their blue. Students at Hilltop Elementary made pictures to show their support for law enforcement officers and for Chief Cairney.
"Backing the Blue was not just a one day event here in Argyle ISD, it has become a culture," said Ciarney.
– By Pam Arrington/Argyle ISD