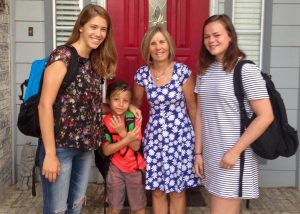 Claudia Ceddia sounds amazingly well adjusted for someone who arrived in the United States a month ago and just finished her first day at Flower Mound High School, where people don't speak her native Italian as a rule.
When she left Italy on Aug. 1, the 17-year-old exchange student was sure she knew one thing about Texas — it's big.
"Italians also have the stereotype that the people in Texas are cowboys or cowgirls," she added, laughing. "My friend told me that when I come home, I will be a cowgirl."
Ceddia is one of two foreign exchange students who will stay with the Warriner family of Flower Mound for the 2015-2016 school year. The exchange is being facilitated by Education First (EF) High School Exchange Year, one of the largest international education companies, which brings nearly 3,000 students to the United States annually and also has boarding schools abroad and online English courses.
Sue Warriner, a 19-year resident, has hosted eight exchange students since 2012.
"The girls actually had a really good day," Warriner said of her two exchanges. "Flower Mound (High School) has established a mentor program for exchange students, people they have met in the past few weeks, and they were able to eat lunch with them and show them around the school, so it's been really good to have the mentor program for them."
She took Ceddia and Linde de Koning, a 16-year-old from the Netherlands, out for ice cream after their first day of school.
"It was very fun, it was completely different from my school in Italy," Ceddia said. "The school here is very big, bigger than my Italian school, with a lot more people. There are more interesting activities than my school in Italy, and I can choose which classes I want to take. It was very different — I was very excited."
It wasn't all fun and games, though — Ceddia got math homework on her first day.
"I like math, though, so it's good," she said.
She also signed up for the swimming team and participates in triathlon training with the Warriners.
Not all students in the EF program had such a great first day of school, however. Christine Sanders of EF said unforeseen circumstances meant that a few host families had to back out of their commitments at the last minute.
As a result, there is an urgent need for host families for the current school year. One boy from Taiwan couldn't even start school because he lacks a permanent residence. Visit www.efexchangeyear.org for information about hosting.
Sanders, who lives in Denton, has also been an exchange parent for years.
"Some people think we're crazy," Sanders joked. "I've had people say, 'But you don't get paid. Why would you take care of someone else's child for 10 months and not get paid?' I tell them it's about having a new family member — it's permanent. They go home after 10 months but they're in your lives forever."
She said there's no better way to learn about other cultures than to host exchange students. Warriner added that the students learn quite a bit about Texas.
"Texas does have a reputation. Unfortunately some kids show up expecting everyone to be riding horses, carrying guns, driving pick-up trucks and wearing cowboy hats," she said. "They get to Flower Mound and they're like, 'This is suburbia!'"
The adjustment is made easier by the fact that the students really want to visit America, Sanders said.
"They do it because they listen to American music, see American movies — America is the place to be. English is the language to speak if they want to make it in the world. They're so excited to be here, and everything is a first for them."
The students don't get credit for the year spent abroad, she added — they have to make up the year when they return home.
Some become quite attached, Warriner said.
"They make good friends while they're here. They get to know a lot of Americans and they all fall in love with Chick Fil-A — which is bad," Warriner said, laughing.
"[The food] is really different," Ceddia said. "First of all, in Italy, there are two types of fast food, McDonald's and Burger King, but here, I have a larger variety to choose from. The most interesting place for me is Chick Fil-A."
She said she'd like to cook some Italian recipes for her host family, which has always hosted pairs of exchange students.
"They become good friends," Warriner said. "Our kids are older, so we don't really have anybody here for them to hang out with. It helps to have someone who can relate to what they're going through and to practice their English."
The experience is great for her family and for the students, she said.
"They get a lot more confident. They're away from their families, so they make decisions on their own and become a lot more independent in a way," Warriner said. "They become part of our family while they're here, too — it's really hard when they leave."
Leaving is tough on the students as well. A former student Warriner hosted expressed regret in joining the exchange program after returning home, saying she was happier in the United States than she'd thought possible. But she has just one year left of high school, and like many exchange students, plans to return to the U.S. someday, perhaps permanently.
And their host parents visit them.
"This past summer I went to Norway when our Norwegian exchange student went home, and my husband and I were able to visit her family," Warriner said.
Past trips to visit former students include such destinations as Spain and Germany.
"We love to travel and we're very active, so for us it's a great fit."
– Written by Stephen English