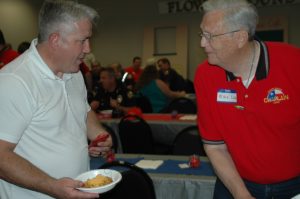 Jeff Burks is still trying to sort out exactly what his new job as the in-house chaplain for the Flower Mound Fire Department involves. The basketball-playing firefighter/paramedic stepped into chaplaincy about three months ago, though he's been working for the FMFD for 17 years.
It's clear, just by sitting across from Burks, that he is enthused about being able to serve his fellow firefighters in a way that no one has done before. He's the first in-house chaplain the FMFD has ever had.
As he sat enjoying a meal of Texas chili with some of his fire and police department brothers, Burks described the need for chaplains probably better than anyone could. Since he's one of them, he knows how the trauma of calls can impact a firefighter, long after the blaze or emergency has passed.
"Police and firefighters, we're tough guys," he said. "We stuff the emotion. When we go on calls, emotions can stay with us."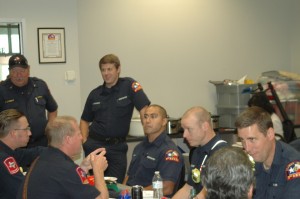 Letting first responders know that it's OK to share those feelings and talk through them with others is a large part of the reason Burks was sitting with his friends eating chili. The Flower Mound Chaplain Corps held a luncheon for them on September 26 to show appreciation and support to a group of people who don't often receive enough of it.
"It's huge," he said of the support for firefighters and police. "As firefighters and police we tend to stay in our groups … It's just the recognition that it's OK to talk about calls."
The event was held at fire station 1 and included food and drink, dessert and door prizes. Volunteers were also served.
Offering support is why the 14 members of the chaplain corps are there too. They aren't active first responders, but they serve as shepherds, guiding the suffering through their grief and helping them heal.
History of helping
Pastor Richard Plunk of Grace Community Assembly of God is one of the corps. He shared the story of the corps' inception back in 2000, when it was started with two sergeants who have now retired.
At the time, chaplains were used mostly to help console victims and their families. A car wreck on FM 2499 where a man was killed after running his motorcycle into a tree got the fire department thinking.
"This lady came out to the scene and went to pieces," Plunk said, adding that the woman thought the victim was her boy. "And it wasn't even her kid."
In August of 2000 there were about 8 chaplains, mostly pastors, who rotated on-call shifts.
Plunk recalled another heartbreaking story—one he said he will never forget—when a 16-year-old Marcus High School student was killed driving out of the campus years back.
The pastor was eventually sent to a hospital to notify the girl's family of her passing. He remembers the father, believing his daughter was being treated at the hospital, waiting for someone to let him know of her condition.
When he saw the chaplain, he reacted in anger, even taking a swing at Plunk.
"He was going through the grieving process all at once," Plunk remembered.
But those moments of care he showed the family made a lifelong difference. Plunk officiated the girl's funeral, re-dedicated their marriage and an adopted daughter. When the father died from cancer, Plunk officiated his funeral as well.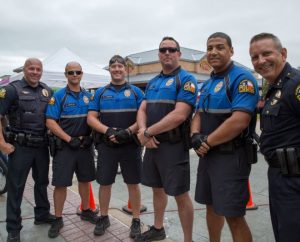 Plunk is a Christian pastor, but the chaplain corps also includes members of the Baha'i faith, a Jewish rabbi and has once included a Muslim religious leader.
"People respond to love," Plunk said. "They don't care who you are or where you're from. We're there to be a presence and to answer questions."
Getting to the point where people would trust him to be that support took time and effort on Plunk's part. He's been a pastor in Flower Mound for decades, but initially, he found it not so simple to dig in roots in his capacity as a comforter.
"I realized I had to be like one of them," he said. "Twenty years ago … it was a 'good ol' boy' network and I realized I had to be with the good ol' boys to serve the community."
So he joined various clubs and groups like the local Rotary Club and the zoning commission.
"We're here to invest in Flower Mound," he said, recounting a specific call where first responders he was working with seemed to really be in need of someone to talk through the ordeal with them.
"Some kids stole a truck, picked up some of their friends and ran into a tree over in Wellington," he said, referencing the case of Drake Buchanan just after Christmas in 2005. "The truck burst into flames and they burned up."
Buchanan, the unlicensed driver, was trapped inside the truck and died at the scene. Two female passengers suffered injuries that were non-life threatening. Two teenage boys were critically injured, one with severe burns. One of them, Hunter McGee, died later at Parkland.
Seeing something so traumatic can stay with a first responder for a long time, and may manifest in unexpected ways. Plunk said having someone like Burks around the firefighters all the time is priceless.
While calls involving children like Buchanan, or severe injury tend to be obvious triggers, other things can also play into what causes emotional backup.
"It's really specific to the individual," Burks said. "We all have stress in our life outside of work … We don't really know what the trigger could be. Basically, they start to fill up … We walk them through steps to diffuse the stress."
Chaplains can receive extensive training through a variety of sources, including the State of Texas.
Breaking ground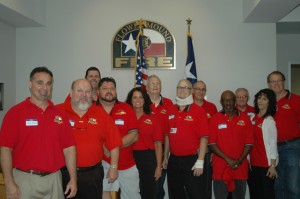 Burks said it's important that the chaplain corps held an event to recognize what first responders go through and how important they are to a community.
"They're basically breaking ground with what they're doing [the luncheon," he said. "We've never had an appreciation luncheon with the chaplains before."
Why the support has lacked, Burks isn't certain, but said with new leadership in both the fire and police departments, the culture of first responders has changed for the better.
In the meantime, he's learning a lot from the corps chaplains about how to create trust between himself and his peers. Burks still works as a firefighter/paramedic, and his role as in-house chaplain is one that seems to be evolving, focused largely on just spending time with his FMFD brothers.
So it's important when people like Chaplain Coordinator Mike Liles does the same thing at fire station 3, where he is on-call. Liles organized the appreciation luncheon, which was intended to show care to the 200 Flower Mound first responders.
"We love 'em and we want 'em to know we love 'em," Liles said.
For most of its duration, the chaplain corps has served primarily to make death notices and help families cope with loss. Now, the focus is shifting to include meeting the needs of those who help keep the town safe.
"Especially with all of them getting shot," Liles said, referring to recent events where police officers have been killed.
"We appreciate [them] so much and thank God for [them] being in the community," he said.
Mark Sherrill and his wife Grace are both volunteer chaplains in the corps. They are members of the Baha'i faith.
Sherrill remembers having to notify a cancer patient that her 19-year-old only son was killed in a wreck on the way to visit her in the hospital.
They still do those notification consolations, but getting to know the needs of first responders has become key.
"We're trying to make ourselves accessible to the individuals more," he said.
So people like Sherrill and Liles are hoping to understand how they can help. The same tack seems to work for telling someone a loved one has died, and for providing aid to battle-hardened police and firefighters.
"The Spirit leads you … Different people have different needs," Liles said. "You listen and they tell you what they need."
Liles and co-chaplain just started having breakfast on the weekends with the firefighters at station 3. Liles brings the orange juice his cohort brings the donuts.
"I just talk to them while cooking them breakfast," he said. "Then we sit down and pray with them. We need to spend as much time with them as we can.
"They need to do their job [and] they need someone out there to console them while they're doing their job."