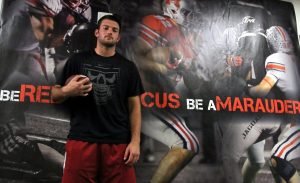 Being a first team all-district selection or making the Rivals Top 100 list might make a football player develop a bit of an ego.
But it is precisely the fact that it has not affected Kaden Smith's attitude that makes Marcus High School coach Gerry Stanford say that Smith is a special athlete.
The Marauders' tight end led Marcus in receiving yards last season and has committed to Stanford University to play football next school year.
Coach Stanford said that Smith will definitely be missed and said his contributions to Marcus' success have been immeasurable.
"Outside of the physical attributes that he always brings to the team, he's really worked hard to hone in how good those qualities are," Stanford said. "I think the biggest thing with him being a senior this year is being the guy that everybody looks at to be the leader of this team."
The Marcus coach said that he does believe Smith and Stanford University are a good fit.
"He's perfect," Stanford said. "They use their tight ends a lot, so that's right up his alley."
Smith said that he feels Stanford is the best fit for him, as well, and said he tries to bring a couple of things to the Marauders football team.
"I hope that I bring good senior leadership," Smith said. "Like, whenever we need a big play to be made, I hope I can make it. I just want to be a guy who can make big plays and help lead our team to the playoffs."
Smith said that he was happy to be selected as a Rivals top 100 pick, but said that is not really why he plays the game.
"I think it's pretty cool," Smith said. "But I'm not very big into that stuff. I'd rather win a lot of games with my team. I dropped a few spots on the list this summer, but I'm not too worried about that. If we can win 10 games or more I'm happy."
Smith is ranked 43 on the list of the top 100 players.
The Marcus senior also ran JV track last year to get in shape for football, has played basketball at Marcus and carries a 3.7 grade point average.
Smith said that he has a positive feeling about this coming season and said he sees a lot of potential in the Marcus football team.
"I think that this is shaping up to be a good year for us as a team," Smith said. "It's the best team that I've seen in four years at Marcus. We've got good leadership, our quarterback is playing very well and our offense is moving the ball.
"We also have a lot of returning starters. I think that this is the best team that I have been a part of at Marcus."
The goal for the Marauders this season is a good playoff run, and Smith said: "If we just do what we are supposed to do and play the games with all our effort, I think we'll make it."
Stanford said that he will rely on his senior tight end for leadership this season and said he has no doubt that Smith will provide it.
"One of the things you look for in a leader is that their character matches their ability," Stanford said. "Kaden's got the character to be a great leader. He carries himself very well. He doesn't put himself above everybody else. He is very humble about the things that God has graced him with, and I think that is one of the things that makes him such a great leader.
"It's the fact that his character is so strong with his ability, and that he is becoming more vocal. He is going to be a great senior leader for us."
Smith's Favorites
Favorite Athlete: Jason Witten
Favorite Sports Team: Dallas Cowboys
Favorite Subject: Math
Favorite Food: Steak
Favorite Movie: Friday Night Lights
Favorite TV Show: E60
Last Book Read: The Hard Hat
Favorite Musical Group or Performer: Whiskey Myers