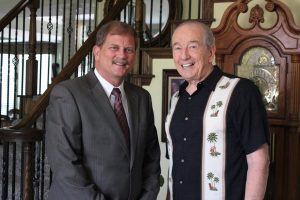 Tom Mechler, a petroleum and natural gas consultant from Amarillo, Texas, is the chairman of the Republican Party of Texas, fulfilling the unexpired term of Steve Munisteri. Mr. Mechler was chosen by the 62-member Republican State Executive Committee meeting in Austin on March 7, 2015, after the resignation of Munisteri of Houston, who had been the chairman since 2010. The GOP currently holds all statewide offices in Texas.
Mechler, who was born in San Antonio, graduated with an engineering degree from Texas A&M University in College Station and the Wharton School of the University of Pennsylvania in Philadelphia, Pennsylvania. He has formerly resided in connection with his employment in Wasilla, Alaska and in Texas: Kerens, San Antonio, Claude, Pampa, and Amarillo.
In 2010, Munisteri defeated Mechler at the party's state convention in Dallas, and Mechler instead was named the party treasurer and was credited with bringing stability to party finances. In order to retain the chairmanship, Mechler would have to be elected to a full 2-year term by delegates to the regular state Republican Convention, which will be held in June 2016 in Dallas.
Mechler has been the Republican chairmen in two Texas counties, one of which is Gray County, which includes Pampa, the second largest city in the Texas Panhandle. To succeed himself as party treasurer, Mechler tapped Republican activist and assistant treasurer Tom Washington of Denton. Governor Greg Abbott said that he expects Mechler to "strengthen the party and continue the momentum of our state's Republican victories and preserve the very values that have made Texas the greatest state in the nation to live, work and raise a family."
On Tuesday, Sept. 29, Chairman Mechler visited my Flower Mound home office for an interview. Some of the questions answered during the videotaped interview include an explanation of the role of the state party chairman; why it's important for Texas to be the first large state to vote in the presidential primary on March 1, 2016; and how the party intends to increasingly engage with minority groups in the Lone Star State. For more info on the Republican Party of Texas, go to: www.texasgop.org