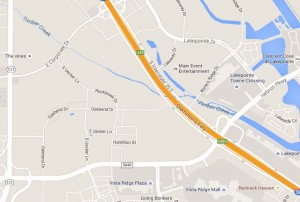 Lewisville police officers are investigating an incident that occurred at a bus stop.
This morning about 7 a.m., a 9-year-old student was at her bus stop in the 2100 block of Uecker Lane when she reported being approached by an unknown male suspect.
She stated the male ran towards her, with his arms extended, as if he was going to grab her. The student immediately screamed and fled to nearby apartments.
The student described the male as being in his 30s, average height, but skinny and having a dark-colored beard.  She did not see any vehicle associated with him or see what direction he fled.
Anyone who witnessed this incident or has information that would benefit the investigation is encouraged to call the Lewisville Police Department at 972-219-3600 or the TIPS line at 972.219.TIPS (8477). Anyone with a cell phone may also send an anonymous tip by texting "TipLPD" and their message to 847411.
Here's a map of the incident location:
https://www.google.com/maps/place/2100+S+Uecker+Ln,+Lewisville,+TX+75067/@33.009453,-96.9865148,15.75z/data=!4m2!3m1!1s0x864c2e8ccc958f19:0x76a8fcd1a218ad9b