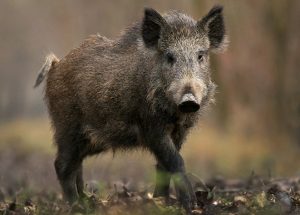 There are two types of Texans; "those that have a feral hog problem and those that don't have a feral hog problem yet."
A upcoming workshop will focus on feral hog biology, damage, disease, and control. Mark your calendars now for the Feral Hog Workshop, Friday, October 9, 2015 from 9 a.m. to 12 p.m. at the Joseph A. Carroll Building, 401 W. Hickory St. RM 115, Denton, TX 76201. Registration is $20 and seating will be limited. Please RSVP by October 2 to Robin Hill at 940-349-2894 or [email protected].
The speakers will be:
Steven Smith, Certified Wildlife Biologist®, Wildlife and Fisheries Consultant, The Samuel Roberts Noble Foundation
Will Moseley, Wildlife and Fisheries Consultant, The Samuel Roberts Noble Foundation
Josh Gaskamp, Wildlife and Range Consultant, The Samuel Roberts Noble Foundation
The first pigs (thirteen of them) were brought into what is now Florida in 1539 by Hernando de Soto. Explorers used these pigs as a traveling food source. After wandering around the southeastern United States in search of gold, his exploration party brought 700 pigs into what would become Texas in 1542.
From these few, they have grown to millions! In 2010, it was estimated that there were 2.6 million feral hogs in Texas alone. With their reproduction rates, it is entirely possible there are close to five million feral hogs in Texas now.
At one time, the feral hog issue was strictly considered to be an agriculture/rural issue in Texas. Each year these animals cause a minimum of $52 million dollars of agriculture damage per year. During the last decade however, feral hogs have increasingly impacted urban/suburban areas of the state. They are showing up in all the major cities, damaging greenspaces (i.e., lawns, parks, sports fields) and causing an increase in vehicle collisions. As such, more urban Texans are now aware of the issues relative to feral hogs and understand the need for their control.
But it doesn't stop there. Approximately fifteen diseases can be carried by feral hogs. Swine brucellosis and pseudorabies are two examples of diseases of concern. Recently while testing feral hog for brucellosis, researchers at Texas Tech documented the presence of tularemia in a large number of hogs tested. Tularemia can be transmitted to other animals and humans. Pseudorabies can be transmitted to other animals and swine brucellosis can be contracted by humans. Obviously, the biggest threat is disease transmission to domestic swine herds. Just recently, a local rancher had to put down a bull due to pseudorabies presumably caught from feral hogs.
Josh Gaskamp with the Noble Foundation says using an assortment of control techniques is more effective than using only one. Landowners must be educated on the best method for eliminating feral hogs on their personal property. Because they can live in nearly any habitat, the hogs have no problem surviving and reproducing.
"They're opportunistic omnivores," Gaskamp said. "They eat everything with a calorie. As long as they've got water nearby, they're going to survive." With survival instincts such as these, it pays to know your enemy. Call and pre-register for the class today!
Janet Laminack, County Extension Agent-Horticulture, Texas A&M AgriLife Extension – Denton County, [email protected], (940) 349-2883 or Metro (972) 434-8812