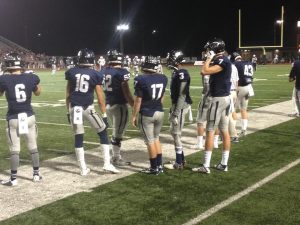 By Cole Carrick
After pulling within three points late in the third quarter, the Flower Mound Jaguars came up just short in their home loss to the Plano Senior High Wildcats on Friday night.
Following their first win of the season last week at McKinney Boyd, Flower Mound looked to build a win streak and earn their first home victory of the 2015 season at Neal Wilson Stadium.
However, a few costly turnovers allowed Plano to leave the Jags winless at home.
The first turnover– a fumble– came on the very first play from scrimmage, setting up great field position for the Wildcats at the Flower Mound 23 yard-line.
The Jaguar defense didn't allow a touchdown, forcing Blake Mazza to try a 44 yard field goal. This became a recurring theme of the game, as Plano attempted four field goals over the course of the night. Chandler Claterbaugh came up huge with a sack to push the Wildcat offense out of the red zone.
Flower Mound was able to force a turnover of their own, though, on the next Plano possession, after Hayden Brewer recovered a fumble inside the Wildcats' 20 yard-line. Noble Newton then tossed the first of his three touchdown passes to senior Jack Seykora to give the Jaguars the lead.
The Jaguar defense answered the call again after a Newton interception, forcing another field goal attempt that was this time missed from 40 yards. Noble Newton bounced back on the next drive, delivering a 45-yard strike to Chase Lembke for a touchdown with a minute and a half left in the first half.
However the Wildcats regained the momentum of the game by scoring their first touchdown with just over a minute on the clock.
Plano received the ball after halftime, and Brandon Stephens scored on a 67 yard rush to give the Wildcats the lead, which they wouldn't give up for the duration of the contest.
Although the defense, led by the intensity of sophomore Connor Lee and senior Claterbaugh, made some great plays, there simply wasn't enough time for the Jaguars to mount a comeback.
After falling to 0-3 at home and 1-4 overall, senior Derek Wells spoke about how important it is to keep encouraging the football players throughout the week.
"It's always important because there's next week and the rest of the season so we're always trying to support them and get the best out of them," said Wells.
The Jags will look to bounce back next week as they take on crosstown rival Marcus in the Mound Showdown at Marcus Stadium.