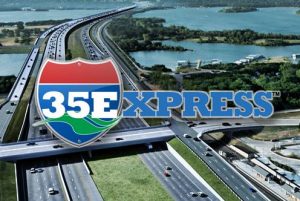 Construction crews will move southbound Interstate 35E traffic onto the new southbound bridge over FM 407 in Lewisville this weekend.
While the work is being performed, various lanes of southbound I-35E between Garden Ridge Boulevard and Valley Ridge Boulevard will be closed from 10 p.m. Saturday, Sept. 26, until 10 a.m. Sunday, Sept. 27.
As crews work to shift traffic onto the new bridge, there will be intermittent closures of the interstate. Southbound traffic will be stopped in 15 minute increments. Southbound motorists should expect heavy delays in this area.
Once the traffic is placed on the new bridge, the entrance ramp to southbound I-35E south of Garden Ridge near Bogard Lane will reopen to traffic.
Crews will shift northbound traffic onto the new bridge, demolish the remaining FM 407 bridge and begin work on the new northbound bridge later this year. Two lanes of FM 407 (one lane in each direction) under I-35E are expected to open by late this year.