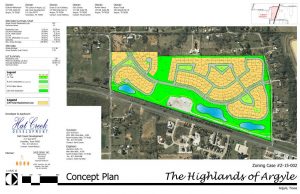 The Argyle Town Council voted 3-1 Tuesday night in favor of changing zoning for a hotly contested proposed 139-unit subdivision.
The Highlands of Argyle is proposed for 111.36 acres of land located west of Hwy 377 and the Union Pacific Railroad tracks, south of Old Justin Road and north of Harpole Road West.
Council members Eric Lamon, Jay Haynes and Marla Hawkesworth voted in favor of the change. Councilwoman Kay Teer voted against the rezoning and Councilman Joey Hasty recused himself from the meeting.
Rezoning from agricultural use and single-family, 2.5-acre estate district use to allow for higher density, the commission this week approved to change it to planned development-single-family residential with a minimum of 12,000-square-foot lots.
Most of the property now contains open pasture with rolling hills and clusters of mature trees in floodplain areas along the Graveyard Branch. Smaller clusters of mature trees are scattered throughout.
A gas well pad site is situated along the east property line with an access road connecting the pad to Old Justin Road.
According to Argyle's Community Development Manager Matt Jones, the rezoning was approved with the following conditions:
A developer's agreement subject to the legislative process by the town — spells out public improvements, licensed, bonded contractors and how the ins and outs of development shall be built and paid for;
The site plan is subject to the legislative process, meaning developers have to submit their site plan with plat to show they are in compliance with the approved concept plan for zoning and conditions;
The site plan must be reviewed and approved before any building permits released; and
Where there is a conflict between PD language and town development standards, the higher standard shall apply.
In August 2014, the town council tabled the rezoning request. That action came when Kosse Maykus of Hat Creek Development Company asked council members to table the zoning change request to allow the developers time to review their proposal and possibly return with an amended version at a later date.
At Tuesday's meeting, 26 people spoke about the development, with 4 in favor of it, Jones said. The council also recommended staff and planning and zoning commission recommendations.
Jones said the P&Z-approved plan is similar to what was proposed last year, with lowered density. Now, the plan calls for 1.25 units per acre. That's in compliance with the Argyle Future Land Use Plan for the area.
The project will go back to the P&Z commission for approval of the site plat.