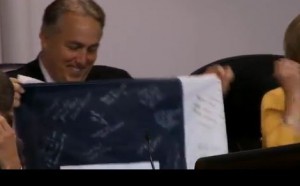 In gratitude for their work keeping Flower Mound growth and change inline with its rich, rural heritage, some residents made a special gesture Monday night thanking two of the town's authorities.
"Tonight we'd like to take some time to thank our town manager and town attorney for what many believe is a job well done that doesn't always get recognized as such," said resident Jodie Boutilier.
A flag for Town Manager Jimmy Stathatos and one for Town Attorney Bryn Meredith were each signed by 120 Flower Mound residents to show support for what the two men have done during their time working with the town.
Stathatos, a Texas A&M alumnus and former town manager for Roanoke, was given an Aggie flag.
"As an Aggie you have a rich sense of culture," Boutilier said. "The Texas A&M culture is a product of the university's founding of a rural military and agricultural school.
"The school's history has instilled in it's student the idolized elements of a small town life — community, tradition, loyalty, optimism and unabashed sentimentality. Many in our town believe that you have taken this rich sense of culture and applied it throughout your careers in public service. Flower Mound too is rich in community, tradition, loyalty and optimism. We are proud of our town and its history, loyal to what our founders envisioned for our community."
Some have said the town's financial health is dependent on new development.
"It's no secret that this town has high standards," Boutilier told Stathatos. "Through your leadership and guidance our community has seen quality development that many have been asking for years."
A few years ago, residents surveyed asked for more quality restaurants and shopping. Now they have places to gather and socialize, a senior center, a coming dog park, coming hotels, more park land, and an antique cabin found inside another house.
"We are thankful for your ability to work with developers to find a solution that will preserve this new found history. About 53 percent of Flower Mound is undeveloped. This is no small task to manage."
Boutilier noted that Flower Mound is the 50th largest city in Texas by population.
"We are no longer just a small quaint town," she said. "As with any growth comes growing pains and how we weather these pains is directly related to our leadership. Jimmy, over the past three years we've experienced a substantial amount of employment growth right here in Flower Mound with an established 3,000 jobs being created and approximately 2,000 of those professional jobs.
"Our bond rating has gone up to triple A and your leadership has allowed council to lower the tax rate."
According to Boutilier, town staff has become more customer friendly and staff morale is at an all time high under Stathatos' leadership. Many residents believe he embodies the vision of Flower Mound, she said.
"Jimmy, the signatures on this flag transverse political lines. We thank you for always looking out for our town. Thank you for … caring about our interests first."
Town Attorney Bryn Meredith received a Town of Flower Mound flag as a symbol of his service.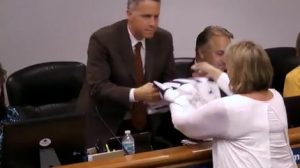 Meredith, a Swiss-born municipal lawer, is a partner at the law firm of Taylor, Olson, Adkins, Sralla and Elam. He serves as municipal attorney to Flower Mound, Maypearl, Saginaw, Dish and Weston.
He served on the oil and gas board of advisory in years past and was known as a leading expert on oil and gas regulations.
His flag, also signed by 120 citizens, was given in part as a thank you for traveling to Austin in opposition of House Bill 40, one of many bills that diminished or eliminated local authority related to oil and gas drilling.
"Bryn, many believe that without your expertise Flower Mound's interests would not have been represented there," Boutilier said. "Your understanding of our town's unique governing system and those of the surrounding communities provide the town council, town manager and staff with the expertise to examine ordinances and recommend areas of improvement.
"Bryn, you've always understood that Flower Mound did not want to just be like any other community. We're different and we want to continue that heritage.Our flag symbolizes the rich history and vision of our founders and we believe you keep that vision and history in mind when providing legal guidance to us."
Boutilier likened Meredith's work to that of the iconic Lady Justice, who measures the strength of a cases supports and opposition and weighs the evidence without prejudice.
"We believe that you have a unique ability to exhibit those characteristics while serving the town," she said.