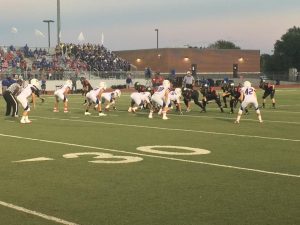 By Mitchell Mason
The last two 4A semifinal matchups have featured close games between the Argyle Eagles and the Graham Steers. This year, however, was not the same. Argyle dominated from the opening drive and never looked back, building a 21-0 lead by the early second quarter, and eventually winning 47-21.
Argyle got off to a great start thanks to a Graham personal foul, which led to the Eagles starting at the opposing 41-yard line. Nice passing and fancy footwork by QB Dane Ledford got the offense near the goal line, and a pitch to Drew Estrada made the score 7-0 within minutes. After forcing another punt and another Graham penalty, Ledford found Gage McCook, who snuck in to make it 14-0 still in the first quarter.
After Graham QB Landry Turner threw a TD to trim the lead to 21-7, Ledford found TE J.C. Chalk wide open over the middle, and he did the rest of the work, strolling in from 60 yards out. Graham would score again to make it 28-14 at the half, but Argyle scored on their first two drives of the second half, pushing the game out of reach.
Ledford was extremely efficient throwing the ball, passing for 193 yards and 4 scores, and spread the ball out, as Chalk, McCook and Drew Estrada caught touchdowns. After a tough game last week, the Argyle defense also stepped up, holding Graham to 255 yards and 21 points.
As it was Argyle's home opener, it was a packed house, and the flashy offensive display delighted fans as Argyle starts to gear up for district play.
"It was impressive to see how easily they moved the ball." said former offensive lineman and 2013 state champion Zack Mahon. "It shines a light on the rest of the season as to how good this offense can be."
Argyle faces off against Paris next Friday, September 25th, in their final non-district game.