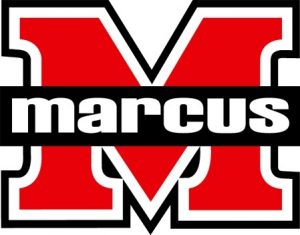 By Cole Carrick
The only things bigger than the homecoming mums were the smiles from the players and coaches on the sidelines during Marcus High School's 24-7 win over Hebron Friday night.
After holding the Hawks to a three and out and forcing a punt on their opening series, the Marauders did not look surprised or caught off guard when senior punter Hogan Pearson took off with the ball. Marcus took possession of the football after stopping the fake punt, giving the home team incredible field position to start their first drive of the game.
The Marauders didn't look back following a two-yard rushing touchdown from senior running back Nate Hopkins.
They scored on their very next drive, this time via the passing game. Senior quarterback Mitch Cason found wide receiver Kaden Smith in the back corner of the end zone for six, which would put the Marauders in the driver's seat for the rest of the game.
While the Flower Mound Marcus offense put up some points early in the game, it was their defense that stole the show. The Marauders held Hebron to just one first down throughout the entire first half, never allowing the Hawks to cross onto their side of the field.
However on the opening drive of the second half, Cason threw an interception that would be returned for a touchdown by senior defensive end Nathan Grant of Hebron High School. While this did cut the lead down to seven, the Marauders didn't look back, scoring the next ten points and ending the game without allowing an offensive touchdown.
The crowd brought a lot of energy to Marauder Stadium, and the fans left the game very proud of their football team's performance. "So far we've been undefeated, and we're doing pretty well, so it was really important that we beat Hebron for our homecoming and hopefully we keep it up for Allen next week," exclaimed Autumn Carpenter, senior cheerleader for Flower Mound Marcus.
After improving to 2-0 in district play, and 4-0 on the season, the Marauders will put their undefeated streak on the line as they travel to Allen to face the Eagles, who are coming off a 65-0 victory against Plano High School.