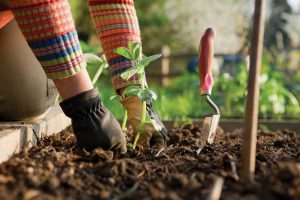 September can be a busy month in the landscape. We are just past the prime time for using pre-emergents for cool season weeds. You could still put out pre-emergents, but you won't get as good of an impact as you would late August/early September. Mark your calendar now to put out pre-emergent for warm season weeds in late February/early March.
This is still a great time to do some planting or renovations to your landscape. There is still time to sod your lawn with warm season grass. As we cool off a bit more, trees and shrubs can be planted along with perennials.
Fall is the time we think about dividing perennials such as iris so that they maximize their blooming. Plus, it gives you more plants to share or spread around your yard.  Wildflowers such as bluebonnets should be sown now. You can start thinking about bulbs to put out when we get a little farther along into fall. Daffodils do great here and there are a lot of other native bulbs worth investigating.
It's not entirely too late to put in a vegetable garden. Believe it or not, fall is a great time to grow vegetables in North Texas. It's hard to predict when our growing season will end with a frost, but there are edibles that will do alright even after a frost.
This is also a great time to learn more about horticulture! We have several upcoming free opportunities. Tuesday evenings from September 22 to October 13 we have our lecture series at the Flower Mound Senior Center at 2701 W Windsor Dr. starting at 6:30 p.m. The schedule begins with Rusty Allen from North Haven Gardens talking about soil preparation and native Texas plants. On September 29, Dr. Dotty Woodson will talk about veggie gardening. October 6, Master Gardener Ellen Diers will do a hands-on class about container gardening and the series finishes with Patrick Dickinson on October 13 talking about shade gardening.
And, October 3 is our annual free event the Fall Garden Fest held at Trietsch Memorial United Methodist Church, 6101 Morriss Rd. in Flower Mound from 9 a.m. to 3 p.m. We will have educational booths, guest speakers, activities for children and shopping opportunities for gardeners.
For all the details on these events and classes visit www.dcmga.com. You can also give us a call at 940.349.2892 or email us at [email protected] for more information about events or this article.
Janet Laminack, County Extension Agent-Horticulture, Texas A&M AgriLife Extension – Denton County, [email protected], (940) 349-2883 or Metro (972) 434-8812