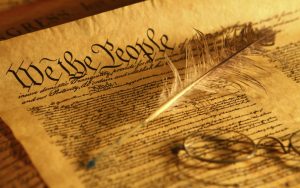 Tom Tweeddale will present a lecture on the U.S. Constitution and its Amendments just in celebration of Constitution Day, the anniversary of the signing of the U.S. Constitution on Wednesday, September 16, from 12 to 1 p.m. in the Courthouse-on-the-Square Commissioners Courtroom,
During the lecture, Tweeddale will present a brief history of the writing of the Constitution and followed by a detailed review of the 7 articles of the Constitution.
Tweeddale, a retired airline pilot with 36 years' experience, developed an interest in American history after flying over national landmarks. He is the author of Your Trivia Guide to the USA, and has presented lectures based on his research at various colleges, libraries and other institutions.
All Courthouse Museum exhibits and lectures are free and open to the public.  The courthouse has handicapped parking and accessibility through the north entrance. The Courthouse-on-the-Square Museum is located in the historic Denton County Courthouse at 110 W. Hickory in Denton.