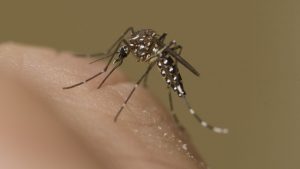 The Denton County Health Department confirmed the second human West Nile virus case in Flower Mound this year.
In addition, the Town of Flower Mound Environmental Health Services Division confirmed a mosquito sample collected in the 2600 block of College Parkway tested positive for the West Nile virus. This is the eleventh positive mosquito samples found in the Town this year.
In response to the West Nile-positive mosquito sample, Flower Mound scheduled spraying operations in the approximate one-half square-mile radius surrounding the specified area of 2600 block of College Parkway Monday through Wednesday, September 14 through September 16, between 10 p.m. and 6 a.m.
Residents in the affected neighborhoods will be notified by the community notification call system and community signs placed at major intersections within the spraying area. Residents are advised to minimize exposure when possible.
For more information, contact Flower Mound Environmental Services at 972.874.6340 or visit www.flower-mound.com/mosquitoes.