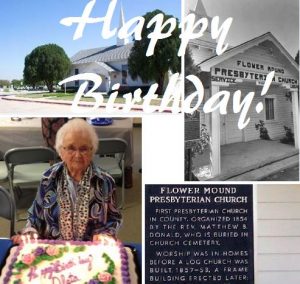 by Sue Ledbetter, Elder
Flower Mound Presbyterian Church
On August 30, 2015, historic Flower Mound Presbyterian Church, Denton County's oldest Presbyterian Church, is celebrating 161 years along with the 101st birthday of our oldest member, Miss Oleta Simmons Greer.
Miss Oleta is our "angel." In fact, her name means "winged one." Her Greer's family members were some of the earliest residents of Flower Mound. In fact, Simmons Road is named for her family.
Flower Mound started as a Presbyterian campsite in the 1840s. Religious meetings were held for two to three weeks at a time. By 1854, the church was officially established by Reverend Matthew B. Donald. Donald School, the first elementary school, was founded in 1877.
By 1920, when Miss Oleta was a child, the church was thriving with 126 members and she was attending Donald School. Many years later, the town of Flower Mound was chartered at our church.
We will celebrate both birthdays with a special Homecoming Worship Service beginning at 10:30 a.m. This will be followed by a potluck at 11:30. All are welcome.
Homecoming celebrates the history of the church and Flower Mound and recognizes those who attended the original Donald School.
Sunday School starts at 9:30. Church members, Miss Oleta's family, and former attendees of the Donald School are invited to share their memories and stories during the service.