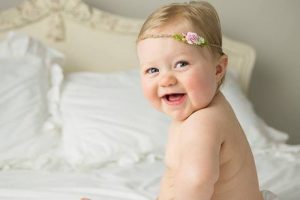 Little Lilly Camp made her world debut about 8 months ago as a happy, smiling baby girl.
Earlier this month, Lilly was diagnosed with retinoblastoma, a rare form of eye cancer. Two days after her parents got the devastating news, Lilly underwent surgery to have her eye removed.
Her father, Jake Camp, said his baby girl had a chemotherapy treatment last Tuesday, but has been "super happy and playful" despite side effects.
"She's just busy being a baby," he said.
But Lilly will require more chemotherapy.
To help defray medical costs, a GoFundMe.com page has been set up in Lilly's name.
Also, Bahama Buck's in Double Oak is helping out by hosting a benefit night for the Camp family from 5-9 p.m. August 25. Money collected from Sno purchased that evening will be donated to the family.
Jake Camp said he and his wife want to be at the event with their daughter, but they will have to check with Lilly's doctor to get health clearance for her.