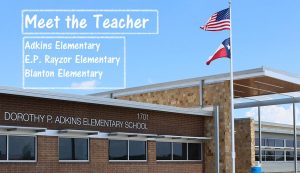 E.P. Rayzor and Adkins elementary schools are hosting Meet the Teacher events tonight.
Adkins' happens from 6-7 p.m. Rayzor has a kindergarten event from 4-5 p.m. and a 6-7 p.m. slot for first- through fifth grades.
Blanton Elementary School in Lantana is hosting its Meet the Teacher event from 5-6 p.m. on Friday.