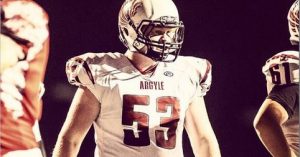 Legendary Green Bay Packers coach Vince Lombardi once said "football is like life — it requires perseverance, self-denial, hard work, sacrifice, dedication and respect for authority." It is these very qualities that area coaches try to instill in their players as the 2015 football season gets set to get underway.
It has often been said that football is the unofficial religion of the state of Texas, and with multiple playoff teams on a yearly basis from the southern Denton County region, it's easy to understand why. The Argyle Eagles are coming off of a 15-1 season in which they advanced all the way to the state championship game before losing in double overtime.
Coach Todd Rodgers said the biggest desire for his team this season is to make another deep run into the post-season.
"We return an experienced ball club that wants to return to the state championship in Houston," he said.
The Eagles return 12 starters (five offensive and six defensive) from last year's team, and in spite of losing standout running back Nick Ralston (Arizona State) and an experienced offensive line, they return all-state tight end JC Chalk, receiver Drew Estrada, linebacker Taylor Sweatt, defensive lineman David Bearden and defensive back Dane Ledford.
Rodgers said the key to making another good run this year is to get the players that lack experience at the varsity level seasoned early on.
"[We need to] gain valuable early season experience and build depth," he said.
Argyle's biggest challenge of the season will come on Nov. 6 when it faces Sanger at AHS