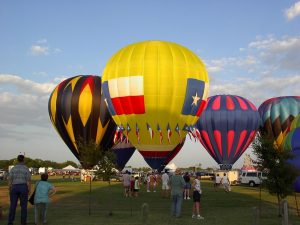 The growl of fire sending hot air balloons sailing through the sky over Highland Village is no match for the roar sent up by an area club helping take a bite out of vision and hearing loss.
The 28th Annual Highland Village Balloon Festival is coming up in mid-August, with its fancy, massive airborne fleet cruising early in the morning and at sunset. This year, it's being held at Unity Park due to flooding issues at the former location.
"Balloonists love coming because they could fly over the lake," said Dianne Ashmore, of the Highland Village Lions Club.
This year's event, which is slated for August 14-16, will offer a family-friendly weekend of awe, wonder and fun. Gates open at 5 p.m. Friday and the evening unfolds with a Kids Zone, live music, tethered balloon rides, the opening ceremony and balloon mass ascension. From 8:30 to 8:45 p.m. is the balloon "glow," when the gentle giants will light up the twilit sky.
On Saturday, 5K and 1K races are scheduled along with a car show boasting about 100 classic rides. On Sunday the real magic happens with wiener dog races and "Wish I were a wiener dog" races. You can enter your cutie-pie canine as long as he weighs less than 30 pounds.
The festival benefits the Lions Club's mission to serve others. In particular this year, funds will be used to allow four children with disabilities to attend the Texas Lions Camp in Kerrville.
"It's a thrill to know we have children in the area that we can do this for," Ashmore said.
The festival will also fund vision and hearing screenings given to pre-K pupils. Last year, the Highland Village Lions Club completed 4,326 screenings locally, Ashmore said. There will also be free vision screenings offered at the balloon festival.
Boy Scout troops and other youth groups help out at the festival and are given monetary rewards. There's so much going on at the colorful affair. Visit lionsballoonfest.com for more details.