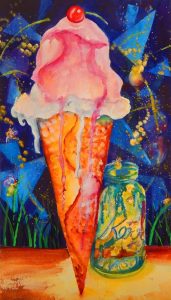 by Suely Lohr
In 2001, a group of visual artists who live and work in neighborhoods in Lewisville, Flower Mound, Highland Village, Double Oak, Copper Canyon, Argyle and Bartonville joined together to create the Cross Timbers Artists Studio Tour. During the tour, member artists open their studios to display their art and working spaces. Many artists also provide demonstrations and hands-on activities in which the public can take part.
The purpose of the tour, which is held the second weekend in November each year, is to give the public an opportunity to explore the artistic process first hand, showcase the variety of fine art available in the local area, and create a sense of community among area artists. This unique and popular Denton County art event has provided art education in a neighborhood setting for thousands of people since its inception.
In 2007, tour artists , strengthened their commitment to the community by forming an unincorporated non-profit association; the Cross Timbers Artists Guild to encourage an interest in and an appreciation for the creative processes, materials and ideas related to the visual arts. The guild hopes that through its activities it will inspire students and adults to pursue the visual arts as careers and hobbies, and to increase public awareness that art thrives in area neighborhoods.
In addition to hosting the studio tour each November, the guild maintained an art gallery showcasing members work at the Shops at Highland Village from 2009 to 2011 and continues to participate in several local exhibitions annually.
Since the first tour in 2002, the organization has grown from 6 artists to 20+ and includes artists from a wide range of disciplines such as painting, sculpture, ceramics, jewelry, clay, glass, fiber, furniture and mosaics.
This year's tour will be November 7-8 with an opening reception at Premier Gallery on November 6. It is a great opportunity to see art being created first-hand. Some of the artists participating on the tour include:
Jackie Haugen – Watercolor, acrylic, mixed-media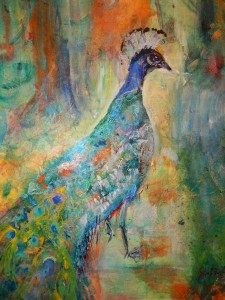 Jackie Haugen is a resident of Highland Village and a painter of 25 years. She has studied with numerous instructors in Pennsylvania, Virginia, Maryland and Texas and at TWU and UNT as a watercolor major. Her art is frequently described as energetic and imaginative. One of her paintings titled "Pot Bar" was published in 2006 in Palette magazine in the Mar-April issue. The article was entitled Imaginative Artists.
History is important to her and Jackie considers herself a storyteller in paint and an abstractor of nature. She has won many awards through the years. In 2014 her painting of a Dogwood was awarded Best of Show in a collaborative piece that is part of a permanent installation at the MCL Grande Theater in Lewisville.
Most recently her 2015 painting Icy Hot Night was voted first place by People's Choice in the Merging Visions show in Denton. Jackie is active in the Visual Art Society of Texas and the Visual Art league of Lewisville. She says she values her friendship with other artists as much as she enjoys the making of art.
Suely Lohr is president of the Cross Timbers Artists Guild.