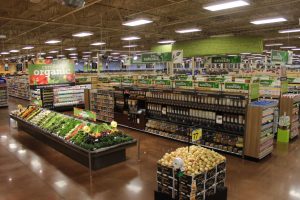 The natural beauty of Bartonville and the lure of a well-set table of fresh, home-cooked food are reflected in the town's newest market.
And there's truly something for everyone at the Kroger store looming large on Justin Road. One of the ways the store tries to meet the needs of each customer is by offering a well-stocked section of natural and organic foods.
"The Bartonville store offers our latest Live Naturally shop design," said Keith Gatlin, store manager. "Our newest stores feature a similar design and layout. The shop is a destination for organics and natural foods. For today's customer, we recognize the importance of having healthy eats and organic offerings. This is a category that continues to expand for Kroger."
Among a vast array of options, patrons of the natural and organic foods section can choose from bulk dried fruit, nuts, spices, granola, snack mixes along with coffee bean options and fresh ground nut butters like peanut and almond.
"Kroger makes buying natural and organic foods convenient, approachable and affordable," Gatlin said. "We're competitively priced and take pride in our private label line Simple Truth, which offers natural and organic foods at lesser prices than comparable national brands."
Gatlin said this section of the store appeals to both traditional families and millennials, and the Bartonville location is one of Kroger's top-performing stores.
"In addition to pricing, a few points that make the Kroger experience different are our exclusive Simple Truth line, knowledgeable natural foods store personnel and our commitment and alliance with many Texas-based farmers and food producers," Gatlin said.
The Bartonville store's natural and organic section also stocks vitamins, supplements, super foods, probiotics such as Kombucha, along with energy bars.
All for the health of mind, body and soul.
"The customer response rate has been incredible! The customers are so excited we carry so much variety in this area of the store," he said. "The natural and organic section located at this location include fresh produce, organic drinks, dairy products, organic chips, frozen products, organic nuts, coffee and much more.
And for folks living in Bartonville and the surrounding rural areas, having a place close to home where these types of health foods are sold has suddenly become a reality.
"The dairy section appears to be the most popular within the natural and organic area," Gatlin said. "The organic milk, yogurts, and eggs are in high demand.
"In the past, this has been a niche market and over the last couple of years the traditional grocery stores have really hit the ground running with the type of product and variety we carry."
Simple Truth has more than 1,000 different products is often much cheaper than brand name items.
"We take pride in being able to be a one-stop-shop store, where customers can take advantage of their traditional shopping experience with all the traditional needs for our customers, including a deli, bakery, meat market and well stocked shelves, and most of all customer service in all departments," Gatlin said.
"We will continue to be the friendliest, most knowledgeable and caring store in the DFW area. I would personally say I truly enjoy meeting a new customer and giving them a personal tour of what the prestigious Kroger store in Bartonville is all about — the customer!"