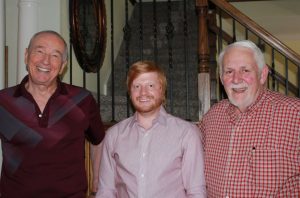 Richard Witkovski has been in the radio business for about 40 years and he's been working toward getting a radio station that Denton County can call its own.
Although area residents can avail themselves of several stations operating out of Dallas and Fort Worth, currently, there is no station based in our county. Mr. Witkovski came over for an interview with his grandson Patrick Malany, also in the communications business, to explain why we should have a station that caters to our residents.
"Having owned and operated a number of businesses in Denton County over the last 8 years, I had become aware of two things," he said. "One, there is an absence of a local radio station that programs to the 770,234 people that live and work in the county, and another 58,000 that attend the two major universities, going back nearly 100 years.
"These people have 77  radios stations they can listen to, but, no station programs to the 30 cities located in the county and no stations keep them informed of important events and give up to the minute news and weather reports that may well be lifesaving."
"Two, I had no local radio station that focused on the potential clients I wanted to reach with my advertising to sell my goods and services. I did not want to reach the DFW metroplex, but wanted to attract folks living in my county, at a price I could afford. After all, the 3/4's of a million people that live and work here also want to play here, and with a number of beautiful lakes, football games in nearly all of our cities, as well as other sports, it was my goal to get my message to them."
Witkovski went on to say that he owned and operated his own Family Broadcast Group, consisting of 33 AM and FM stations and one UHF T.V., hence, he decided to see what could be done to get our very own local radio station.
"With all of the AM and FM stations surrounding Denton County, there have not been, and cannot be any new stations because of the congestion of both the AM and FM bands," he said.
Therefore, he needed to buy an existing, albeit, not currently operating, and station.
"In 2013 I did a study of every radio station that had a listenable signal throughout the entire county and discovered that the owners of the Sanger FM station, 104.1 MHz, which was only 6,200 watts, did cover the entire county, and also that they had plans in the next few months to move their highly rated (The Ticket) format to another of their FM stations that would cover the entire Metroplex.
"At the same time they were taking over the operation of KESN FM, a full 100,000 watt, that carried another highly rated sports network and, with operating (2) full power FM Sports stations, would control the majority of the listeners to the sporting world. By taking on KESN-FM and the entire ESPN Network that would mean they would have to dispose of 104.1 MHz in Sanger as that would put them over the maximum amount of Stations allowed by the FCC for the Metroplex.
Mr. Witkovski feels that our county, covering 958 square miles, with over 770,000 residents and growing rapidly, should have a station that covers the news, sports, arts and a myriad of other subjects directly related to the people who live here. Please watch the short (7 minute) video and I think you'll agree.
Bob Weir is a long-time Flower Mound resident and former local newspaper editor.