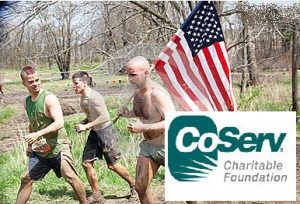 The CoServ Charitable Foundation (CCF) is committed to helping wounded warriors who have served in the U.S. military and is seeking residents, organizations, companies and others to join them in the effort.
The CCF Open Benefiting Wounded Warrior Project is scheduled for Saturday, Sept. 19, at Bridlewood Golf Club in Flower Mound. The golf tournament begins at 7 a.m. with registration and a shotgun start at 8 a.m. For details on how to register as a participant or a sponsor, please email or call Janie Mann at 940-321-7800, ext. 7540.
"CCF has been seeking ways to help the military veterans who have given so much in their service to our country," said CCF Board President Stacia Sims. "Helping Wounded Warrior Project empower veterans and their families seems like a perfect fit."
This summer, CCF also contributed to the Texas Sentinels Foundation to assist in building a home for Sgt. Erich Ellis, a U.S. Marine Corps veteran who suffered severe injuries while serving in Afghanistan in 2012.
Ellis and the Texas Sentinel Foundation came to CCF's attention via CoServ Employee Wes Howard. Soon afterward, the CCF Board approved the funds to cover costs for designing and installing the necessary equipment to provide both temporary and permanent electricity to the new  home.
"I'm glad we were able to do something for them," Howard said. "They are giving a part of their lives to give service for our country.
Since 2003, CCF has distributed more than $6.5 million in grants to more than 200 nonprofits, civic organizations and social service agencies in over 55 North Texas communities. For details on how to apply for a grant, click the CoServ Charitable Foundation link under the Community tab on CoServ.com.