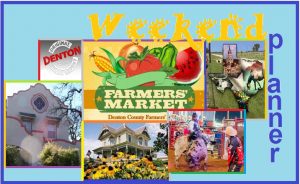 Looking for something fun to do this weekend? Here are a few suggestions:
Saturday:
The Visual Art League of Lewisville presents its annual judged 2105 Fresh Ideas 2015 competition and exhibit from 7-9 p.m. at the MCL Grand Theatre Gallery, 100 N. Charles Street. It's free, and you can visit www.visualartleague.org or call 972-420-9393 for more information.
Summit's Modern Worship for Everyone  is happening at 6 p.m. at the Medical Center of Lewisville's Grand Theater in the Black Box Theater. Summit is a new inclusive mission faith community. Head on out for a worship gathering with a band and a biblical message.
Of course, there's the Denton County Farmer's Market from 9 a.m. to 1 p.m. at the Denton County Historical Park. Head out and grab some fine summer fresh faire from local vendors.
Sunday:
The Toll Tag Triathlon for CASA opens at 5:30 a.m. and the race starts at 7 a.m. at Toyota of Lewisville Railroad Park, 1301 South Railroad Street, Lewisville. Anyone age 13 and up is welcome to run.
All you soccer fans, FC Dallas are taking on the Portland Timbers at Toyota Stadium 9200 World Cup Way in Frisco. The game starts at 8 p.m.