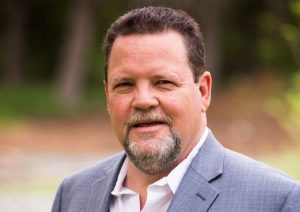 A groundswell of support is developing in Flower Mound. It is a movement to stop the constant bickering, vicious attacks, and petty politics that divide our community during and after municipal elections.
The Common Ground for Flower Mound event will be held in the parking lot of Town Hall on Monday, August 3rd, from 5 to 7 p.m. – beginning just prior to the Flower Mound Town Council Meeting. All citizens are invited to stop by in support of Common Ground for Flower Mound and share ideas of how we can work together for the good of the Town.
The Summit Club of Flower Mound is the major sponsor for the common ground event. But, other citizens, groups, and community leaders inspired the event with pleas to mend from the continued election infighting. Most agree that Social Media is the new phenomena fueling the continuing fires of dissention in Flower Mound.
David Vaught – local businessman and activist says, "Since the recent town elections, our town has become more divided then I have ever seen. We are following suit with what is happening at the national level, and it's embarrassing. We can try to prove who made the mess or we can accept that we all contributed to it.  We need to get past the blame game and make this town a better place to live, and a place we can be proud of again"
Eric Jellison – local businessman and Moderator of Flower Mound Cares (8,000+ member Social Media Site) states, "Instead of historically holding the "other side" accountable, we need to have community leaders who will hold their close friends responsible for productive discourse.  It is easy to criticize an enemy, but that only enables unproductive results.  It is much harder to criticize a friend, but the ear of a friend is more receptive because it knows you have their best interest in mind as well as that of the community. I hope we, as a community, can come together for all of our sakes and hold each other accountable and to the highest standards of decorum and dialogue."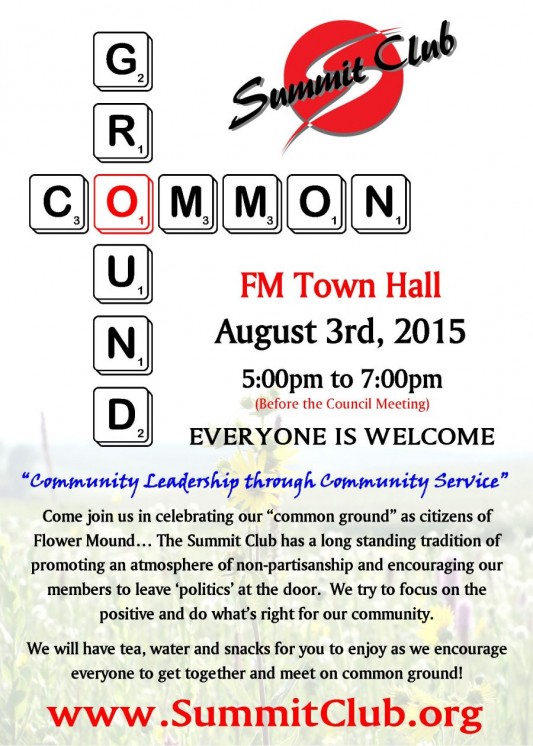 Kathy O'Keefe – local activist and founder of Winning the Fight (WTF) says, "We have so many important issues in FM to deal with. We have youth abusing drugs and alcohol, affecting families and subsequently our communities. This is a trickle-down effect, yet we are not supporting or modeling for our youth. We need to stop judging others and reach out our hands to help our neighbor, instead of pointing fingers and getting nothing accomplished. We all have different circumstances that lead our lives, but we are all equal and should be treated with kindness and patience."
"We need to stop judging others and reach out our hands to help our neighbor, instead of pointing fingers and getting nothing accomplished."
Claudio Forest – local businessman, activist, and Summit Club President states, "Bringing the community together after spirited elections is the founding principle of the Summit Club of Flower Mound, which began in 1974. Early leaders started the organization out of a need to put politics aside to keep from tearing the community apart. Our Summit Club recognized what is happening in our community now and wants to return the club and the town to these founding principles."
Historical Perspective on Election Dissension and Solutions
Flower Mound was born in a dog-fight and has been fighting every since. In 1960, Flower Mound was threatened a hostile takeover from Irving. Irving attempted to grow its boundaries by annexing land through Denton County with Flower Mound right in the path. The attempted land grab became known as the Denton County War.
Edward Marcus, Bruton Orand, and other large land owners agreed to finance a lawsuit against Irving to stop the land grab if local residents would take up the fight. Bob Rheudasil, Doc Wilkerson, Ray Skillern, and others were more than willing and organized residents to fight for their common grounds. Flower Mound won the landmark lawsuit and the subsequent appeal against Irving.
The Town incorporated after the lower court ruling in 1961 and Bob Rheudasil was elected the First Mayor. Not everyone embraced creating a town, but it was necessary to stop future land grabs. Flower Mound took control of its own destiny.
The 1970′s were plagued by the Dis-annexation Wars in Flower Mound. From 1971 to 1977, there were seven attempts by citizen groups to dis-annex various parts of the Flower Mound. Unrest about new taxes, brought on by new growth and the incorporation as a town, pitted neighbor against neighbor.
A lot of residents felt Flower Mound was a town in name only, existing only to stop the annexation by other towns like Irving, Lewisville, and Denton. Flower Mound didn't enact property taxes until 1972 and sales tax until 1977. Taxes were inevitable though. The Town Council said in a Press Release to citizens in October of 1972:
"There seems to be a great deal of misinformation being spread regarding the proposed taxation…,Flower Mound is situated in a position which makes it the focal point of urban development…,adjacent to what will become the world's greatest airport…This area will witness a fantastic rate of growth…,Failure to properly ready ourselves for this urbanization can result in utter chaos in the form of strip zoning, haphazard development, poor construction of public, as well as private facilities, and the invasion of Flower Mound by fly-by-night developers who come into the community, install second-rate facilities, and leave when their construction begins to deteriorate and create problems for the public…Town Council has a tremendous opportunity to build a first class city, but that can only be done by getting out front with proper controls."
But taxes and rumors of more taxes had the citizens of Flower Mound saying, "We want out."  Growth and change was inevitable and Flower Mound could not grow in a quality manner without a real Town Government and a tax base.
Flower Mound earned the title Voting Capital of Texas during the period of the Dis-annexation Wars. With all the succession and regular elections, there was almost always an election going on. And 85-95 percent of the registered voters voted in these elections. Fortunately, none of the dis-annexation elections succeeded and early leaders held the young community together, often by just a frayed thread.
The Summit Club of Flower Mound was officially formed in 1974 because of this political turmoil that was threatening to tear Flower Mound apart. Old friends in the community had a hard time coming back together because of political differences. Newcomers often felt confused, frustrated, and fearful about their new dream home investment in Flower Mound.
Leonard Johns had an idea to form a men's club where community leaders could leave their politics at home and serve the best needs of the community. Ten men assembled for the first Summit Club meeting on January 9, 1974 at the 'Ranchland' facility in Flower Mound. Buddy Dwyer was elected as the first President of the club.
But the ladies wanted a club as well. The Women of Flower Mound formed shortly after the Summit Club. These two Flower Mound service clubs still partner on community events, such as the Easter Sunrise Services on the Flower Mound.
The 1980's and 1990's had plenty of spirited elections as well. Some would say the politics of Flower Mound were always spirited and sometimes bloody during this period of high growth and emotion. Flower Mound grew from around 4,400 people in 1980 to over 50,000 people by 2000.
Many would say that the issues of today are not that far off from our early challenges. But as a community, we have drifted away from our early principles of putting politics aside to work for the common good and common ground. We have lost our way of sorts, and the advent of social media has exasperated our frustration and confusion.
If all of us focused on working together to serve and support community needs, we would garner much greater appreciation for each other and have less time or need to complain. Maybe we should follow the advice of President John Kennedy who once said, "Ask not what your community can do for you, ask what you can do for your community". Well, Kennedy didn't exactly say "community", but he would have certainly thought it if Flower Mound were his home town.
The Summit Club, Women of Flower Mound, Rotary Club, Chamber of Commerce, Friends of the Library, Winning the Fight, Humane Society, Keep Flower Mound Beautiful, the Mound Foundation, and dozens of other local non-profit organizations are crying out for help, volunteers, and members. The Town of Flower Mound also needs smart and talented volunteers to serve on boards and commissions. Service in the community is certainly an important part of the solution.
Please join us to find Common Ground in Flower Mound on Monday, August 3rd, from 5-7 p.m. It's a casual meet and greet in the town hall parking lot, beginning just prior and during the start of the town council meeting. Refreshments and refreshing outlooks will be served.
About the Author: Mark Glover is native to Flower Mound & Lewisville. He is involved in the community through several local service organizations and foundations. Mark is a student of local history, a sustainability advocate, and is well known for his chickens, honeybees and hobby farm – Rheudasil Farms. He is married to Penny Rheudasil Glover, daughter of Flower Mound's First Mayor, Bob Rheudasil. For over 25 years Mark has helped local business people to buy, sell, lease, develop, and invest in commercial real estate through his company iMark Realty Advisors.