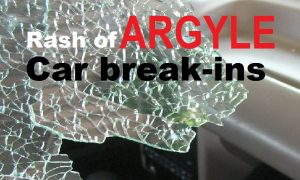 On Thursday morning Argyle police took four reports of car break-ins, bringing the total of these crimes to six over the past two days.
A pistol was reported stolen from the 700 block of Charyl Lynn Lane. Pistols were also reported taken from the 200 block of Collin Street and the 500 block of Village Way.
A truck was reported stolen in the 400 block of Collin Street.
None of these vehicles showed any signs of forced entry, Argyle Police Chief William T. Tackett said.
On Wednesday similar incidents occurred in the areas of Harpole and Shadow Wood where the windows of a couple vehicles were shattered. Denton County has also reported some of these types of incidents around Hilltop Road.
"To help keep this from happening to your vehicle, hide or remove your valuables and keys," Tackett said. "Light up the driveway with outside lighting. Roll up your windows and lock the doors to you vehicle. Take your garage door remote inside. If you see something suspicious, say something!"
Call dispatch at 940-349-1600 or in an emergency dial 911.