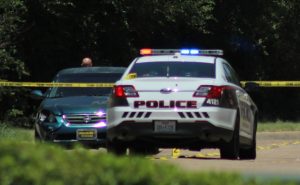 Two people fleeing the scene of a homicide in Lewisville were still at large on Thursday evening.
The incident happened about noon Thursday on Oakbend Drive near the 100 block of Forestbrook Drive in Lewisville, says a report by the Lewisville Texan.
Police released a perimeter they had set up and a DPS chopper departed the scene around 2:40 p.m.
According to Lewisville police, witnesses saw two suspects flee a vehicle that was stopped in the middle of the street near the intersection of Oak Bend and Forest Brook Drive. The witness last saw the suspects enter a wooded area next to the vehicle.  The witness said suspects were African-American. One is a male but they were not certain of the other person's gender.
When they arrived, officers found a black male dead inside of a 2004 green, Nissan Altima. Officers immediately set up a perimeter around the wooded area in an attempt to contain the suspects. The wooded area was searched with the help of a canine unit from the Little Elm Police Department and a helicopter from the Texas Department of Public Safety. The suspects were able to escape the wooded area before a solid perimeter could be established.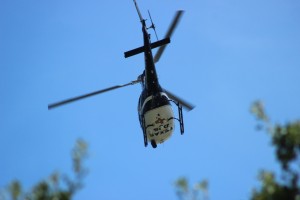 Police said they are still in the very early stages of their investigation but detectives are working the crime scene and interviewing witnesses who come forth. This is the second reported homicide in Lewisville this year.
Call police at 972-219-8477 or text TIPLPD with the word "information" to 847411 if you have a tip regarding this crime.